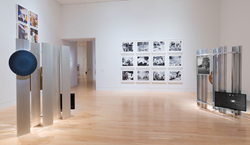 Michelle Grabner is truly a unique artist for her ability and desire to actively work across various sectors of the art world
INDIANAPOLIS (PRWEB) June 30, 2015
From abstract paintings and paper weavings to multimedia sculptures and video, contemporary art, football and family converge in the Indianapolis Museum of Art's new exhibition featuring American artist Michelle Grabner. Michelle Grabner: Weaving Life into Art is Grabner's first solo exhibition in an encyclopedic museum. The exhibition, which opened last month, is accompanied by unique programming designed to engage the local arts community, including an opportunity for students to share their artwork with Grabner and learn from her expertise.
Best known for her abstract silverpoint paintings and works inspired by domestic textiles, Grabner seamlessly integrates her varied experiences as artist, professor, curator, critic, mother and wife into her artwork. The IMA exhibition presents Grabner's work in a variety of media, including painting, sculpture, photography, video and works on paper. As a tribute to the city of Indianapolis and her love for football, Grabner has also produced a new series of photographic works inspired by the Indianapolis Colts for the IMA exhibition.
"Michelle Grabner is truly a unique artist for her ability and desire to actively work across various sectors of the art world," said Tricia Y. Paik, the IMA's curator of contemporary art. "As a professor, she has trained countless art students; as a curator, she has championed many artists at varying stages in their careers; as a writer and critic, she contributes to the ongoing dialogue about contemporary art and its place in society. Presenting her work along with related public programming allows the IMA to showcase her expansive vision of what a 21st century artist can be."
The IMA will host several events in conjunction with the exhibition, including:
The Temporary Suburban and Artist Talk
Since 1999, Grabner and her artist-husband, Brad Killam, have managed a leading contemporary art space, The Suburban, on the property of their family home in Oak Park, Ill. Over four consecutive weekends from Aug. 28 through Sept. 20, The Virginia B. Fairbanks Art & Nature Park: 100 Acres will be the site of The Temporary Suburban, a spin-off installation inspired by the original in Oak Park. Measuring only 10 square feet, The Temporary Suburban will evoke the same home-grown flavor and dynamic atmosphere of The Suburban. During each of the four weekends, The Temporary Suburban will feature a solo exhibition by a local artist.
The Temporary Suburban will open during a kick-off event on Friday, Aug. 28, from 6 to 9 p.m. On Saturday, Aug. 29, the IMA will host an artist conversation with Grabner and Paik in the Park (weather permitting) at 2 p.m. Both events are free and open to the public.
Master Class with Michelle Grabner
Continuing her distinctive engagement with the Indianapolis arts community, Grabner will host a Master Class in The Toby on Thursday, Oct. 29 at 7 p.m. All current Bachelor of Fine Arts and Master of Fine Arts students as well as recent 2015 graduates from the state of Indiana will be invited to apply. Seven finalists will be chosen to display their work during a live class with Grabner in The Toby and learn from her experiences as professor, critic, curator and practicing artist. The event is free and open to the public.
About Michelle Grabner
Michelle Grabner holds a Master of Fine Arts in art theory and practice from Northwestern University as well as a Master of Arts in art history and a Bachelor of Fine Arts in painting and drawing from the University of Wisconsin–Milwaukee. Most recently, she was featured in her first comprehensive solo museum exhibition at MOCA Cleveland (2013). Other solo exhibitions have been held at INOVA, The University of Wisconsin–Milwaukee (2012); Ulrich Museum, Wichita (2008); and University Galleries, Illinois State University, Normal (2006). She has been included in group exhibitions at Museum of Arts and Design, New York (2015); MUDAM, Luxembourg (2012); Tate St. Ives, United Kingdom (2011); Walker Art Center, Minneapolis (2001); Museum of Contemporary Art, Chicago (2009); and Kunsthalle Bern, Switzerland (2008), among others. In 2014, she co-curated the Whitney Biennial, marking the first time an artist has served as curator for this prestigious exhibition.
A professor at the Art Institute of Chicago since 1996, Grabner was also chair of its painting and drawing department from 2009 to 2013. She has served as visiting faculty at Yale University, Bard College and University of Pennsylvania. Her writing has been published in Artforum, Modern Painters, Frieze, Art Press, and Art-Agenda, among other publications.
About the Indianapolis Museum of Art
The Indianapolis Museum of Art (IMA) is located on a 152-acre campus of lush gardens, historic homes, outdoor sculptures, inspiring performance and gallery spaces. Founded in 1883, the IMA is among the 10 oldest and 10 largest encyclopedic art museums in the United States and features significant collections of African, American, Asian, European, contemporary art and design arts that spans 5,000 years of history. With innovative programming to engage guests of all ages, the IMA offers a variety of interactive experiences inside the galleries, throughout the campus and within the local community. From gardening demos in the Madeline F. Elder Greenhouse to outdoor film screenings in the IMA Amphitheater to community celebrations in The Virginia B. Fairbanks Art & Nature Park: 100 Acres, guests are invited to engage with art and nature in exciting new ways at the IMA. Along with the Indianapolis campus, the IMA also owns the Miller House and Garden in Columbus, Ind., one of the nation's most highly regarded examples of mid-century Modernist residences. For more information visit http://www.imamuseum.org.