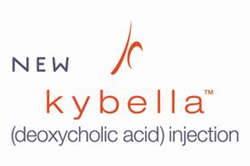 We are very excited to finally be able to not only offer Kybella to all of our patients, but to provide them with a high level of experience in the treatment from the very start. - Dr. Robert Weiss
Hunt Valley, MD (PRWEB) June 30, 2015
Noted dermatology practice Maryland Laser Skin and Vein is the first practice in Maryland and one of the first practices on the east coast to offer Kythera's brand-new non-invasive double chin treatment Kybella. Kybella received U.S. Food and Drug Administration (FDA) approval in April for the reduction of submental fat under the chin, and Maryland Laser Skin and Vein was one of the few practices to participate in the clinical trials instrumental to that FDA approval. The dermatologists at the practice are excited to finally be able to offer this game-changing new treatment to all of their patients. The physicians at MDLSV are also physician trainers, helping other dermatologists across the country learn how to effectively use Kybella.
"Kybella is revolutionary in what it can do for patients, but it takes an experienced dermatologist to make the most of it," said Dr. Robert Weiss, director of MDLSV. "We are very excited to finally be able to not only offer Kybella to all of our patients, but to provide them with a high level of experience in the treatment from the very start."
Previously, chin fat reduction and contouring was primarily done through liposuction, a minimally invasive procedure which uses a small cannula to physically extract fat from the target area. Kybella is the first non-invasive treatment that can reduce the appearance of a double chin. The treatment uses deoxycholic acid injections to destroy submental fat cells; allowing the body to naturally eliminate them and thus reducing chin fat.
"Many patients lead busy lives and can't afford to take the time off required following a liposuction procedure. For busy patients with double chins who can't or don't want to undergo liposuction, Kybella is wonderful news," explained Dr. Margaret Weiss.
Many people suffer from a double chin that does not go away, even after weight loss. This double chin can make men and women appear older and heavier than they actually are. Kybella can help to reduce fat under the chin through a simple series of injections, making it an attractive option for men and women who shy away from more invasive procedures. However, it is important to note that Kybella is only for reduction of submental fat - if a patient wants to get rid of loose, sagging skin under the chin, a skin tightening procedure, such as Ultherapy or Thermi, would be better.
"Kybella injections require precision and a knowledge of anatomy, plus a knowledge of where to place the injections for the best results," said Dr. Karen Beasley, who will be one of the doctors training other doctors across the country in the safe use of Kybella. "At MDLSV, we are confident that patients who come to us will be satisfied with their treatment."
The MD Body Sculpting Center is located with the Maryland Laser Skin and Vein Institute, where dermatologists provide Kybella and many more treatments. Treatments available include CoolSculpting for non-surgical fat reduction, Vanquish for non-invasive fat reduction, Ultherapy for non-surgical lifting, Ultrashape for non-invasive removal of fat and cellulite, Exilis for collagen stimulation, and Cellfina for cellulite treatment. These various body contouring therapies allow MDLSV doctors to provide unique treatment plans for each patient.
About MDLSV
Founded in 1984 by Drs. Robert and Margaret Weiss, Maryland Laser Skin and Vein Institute is the greater Baltimore/D.C. area's leading medical and aesthetic dermatology practice. In 2000, dermatologist Karen Beasley, MD joined the practice and Christian Halvorson, MD joined in 2014. With over 45 different types of laser and light based therapies, as well as numerous injectable treatments, the board certified dermatologists at Maryland Laser Skin and Vein Institute are experts in treating a wide range of skin conditions, including acne, rosacea, aging skin and non-invasive fat removal.
For additional information about Maryland Laser Skin and Vein Institute, please visit mdlsv.com or call 410-666-3960.