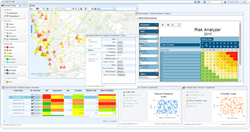 San Mateo, Calif. (PRWEB) June 30, 2015
Space‐Time Insight, the leading provider of situational intelligence solutions, today announced the availability of version 4.0 of its Asset Intelligence application. The software helps utility executives understand which assets are high risk, what maintenance and repair tasks must be completed to reduce risk, and how to lower risk by investing in new energy technologies such as renewable energy, distributed generation and electric vehicle infrastructure.
According to Federal Energy Regulatory Commission testimony before Congress in 2013, U.S. power transformers average more than 40 years in age and 70 percent of the grid's transmission lines are 25 years old or older.
To help utilities maintain, operate and replace aging infrastructure, Asset Intelligence continuously analyzes the likelihood of asset failure and the consequences should failure occur. This in-depth knowledge of risk allows utility financial and asset planning professionals to make timely, confident and effective decisions regarding maintenance, operations and planning. These decisions, in turn, increase reliability and safety of operations while lowering costs.
"Utilities have been looking for an end-to-end asset analytics application that builds on condition analysis to create risk-based capital plans, and also offers the flexibility to tune the models and algorithms," said Ajay Madwesh, vice president of utilities industry solutions at Space-Time Insight. "Asset Intelligence gives utilities the insight they need to continue providing safe, reliable and affordable service while balancing the drive towards Utility 2.0, which creates pressure to defer capital spending."
Asset Intelligence uses advanced analytics to help utility personnel optimize capital expenditures, reduce operational expenses, comply with regulatory mandates, and manage risk and reliability. Each of these activities reduces a utility's costs by one to several percentage points.
Asset Intelligence 4.0 now includes:

More than 80 research-based algorithms for analyzing numerous varieties of assets across 34 asset classes
Sustained capital forecasts for maintaining existing assets
Prioritization of maintenance and replacement tasks based on risk
Asset Intelligence integrates easily with asset management products and can be implemented in a manner of months for rapid impact. Leading utilities across North America use Asset Intelligence to reduce truck rolls, build data-driven rate cases and promote a risk-aware culture across their organization.
To learn more about Asset Intelligence, please visit http://www.spacetimeinsight.com/solutions/utilities/asset-intelligence. Watch a short demonstration of Asset Intelligence at http://bit.ly/1NjH4Tu.
About Space-Time Insight
Space-Time Insight helps companies in asset-intensive industries make faster, more-informed decisions. Our real-time visual analytics applications correlate, analyze, and visualize large volumes of business, operational and external data, spatially, over time and across network nodes. Space-Time Insight's award-winning software powers mission-critical systems for some of the largest companies around the world, including eight of the twenty largest US utilities, helping them reliably, efficiently and economically deliver services and rapidly plan for and respond to a full range of operating events. Space-Time Insight partners with leaders in the industry including Accenture, Esri, IBM, NEC, OSIsoft, SAP, Siemens and Unicorn Systems. Space-Time Insight is privately held and based in San Mateo, CA. For more information, visit http://www.spacetimeinsight.com.
Space-Time Insight is a registered trademark of Space-Time Insight Inc.
# # #
Drew Smith
Blanc & Otus
415.856.5127
drew.smith(AT)blancandotus.com