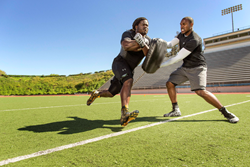 Baltimore, MD (PRWEB) June 30, 2015
Under Armour's new baselayer for football players—Gameday Armour® Max offers the game's most advanced protection at less thickness than any other padding in football.
Developed in partnership with D3O®, a leading UK-based smart materials company specializing in impact protection and shock absorption, Gameday Armour is engineered with D3O protective polymer. This radical polymer material has a unique molecular structure based on non-Newtonian principles; in standard conditions the molecules flow freely allowing the material to remain soft and flexible, but on impact, they lock together to absorb and dissipate the impact energy and reduce the transmitted force.
On the Gameday Armour Max the polymer reacts when hit and disperses impact across the pad, for increased protection. For full freedom of mobility and flexibility the ultra lightweight pads flex with the body when in motion.
The Gameday Armour Max Football Girdle and Gameday Armour Max Football Top both feature HeatGear® fabric, strategic ventilation and 4-way stretch. The girdle is also built with removable hard caps over the thigh pads that can be custom placed for protection based on athlete preference.
Men's and Youth Gameday Armour Max Football Girdle and Gameday Armour Max Football Top are available now at UA.com and select retail partners.
About Under Armour, Inc.
Under Armour, the originator of performance footwear, apparel and equipment, revolutionized how athletes across the world dress. Designed to make all athletes better, the brand's innovative products are sold worldwide to athletes at all levels. The Under Armour Connected Fitness™ platform powers the world's largest digital health and fitness community through a suite of applications: UA Record, MapMyFitness, Endomondo and MyFitnessPal. The Under Armour global headquarters is in Baltimore, Maryland. For further information, please visit the Company's website at http://www.uabiz.com.
About D3O
D3O is a developer of smart materials based in the UK specializing in impact protection and shock absorbing protective solutions which are supplied to leading brands in the footwear, electronics, sport, motorcycle, industrial workwear, law enforcement and military protection markets.
D3O was awarded the 2014 Queen's Award for Enterprise for its strong growth in international trade and today supplies its innovative technology to leading brands and organizations including Schutt Sports (helmet liners), Icon Motosports, Burton Snowboards, US Special Forces and Dr. Martens.
In April 2015 D3O raised a total of £13 million in funding from European-based investor Entrepreneurs Fund and US- and UK-based Beringea, to support the further expansion of the company's innovative protection products and international market growth.
###