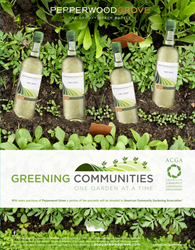 Sonoma, California (PRWEB) June 30, 2015
Fourth-Generation Sonoma Valley winemaker and CEO Donny Sebastiani is proud to announce the Greening Communities campaign to support community gardens.
Beginning in spring 2015, Pepperwood Grove will run the Greening Communities campaign to benefit the non-profit organization, American Community Gardening Association (ACGA). The Association promotes and supports all aspects of community greening in urban and rural communities. For every participating 750 ml or 3 liter sold from April 1 to December 31, 2015, a portion of the proceeds will be donated to ACGA. Participating states include California, Colorado, New Jersey, New York, Vermont, Virginia, Texas, Florida, Michigan, Oregon, Washington and Pennsylvania.
"We understand the importance of building strong communities. Our sense of community here in Sonoma comes in large part from a shared love of wine. For ACGA, community starts with gardens. As gardeners ourselves, we appreciate the work they do and want to support their efforts," said Don Sebastiani & Sons proprietor Donny Sebastiani.
For 25 years, Pepperwood Grove has delivered consistent wines of exceptional quality and value. These versatile wines feature Zork enclosed bottles and 3 liter boxes allowing wine lovers to choose the perfect wine for any occasion. With 17 "Best Buy" awards from Wine Enthusiast, 21 "Best Value" accolades from Wine Spectator and innovative packaging options, Pepperwood Grove continues to be a crowd-pleaser.
Consumers can join in and show their support while enjoying their favorite of six Pepperwood Grove varietals. Pepperwood Grove produces Chardonnay, Cabernet Sauvignon, Pinot Noir, Pinot Grigio, Merlot and Zinfandel, which are sourced from the world's best grape growing regions. Wine labels and boxes are printed on responsibly sourced packaging, Zork closures are reusable and both the Zork closure and 3 liter boxes are 100% recyclable. Consumers can read more about the campaign here: http://pepperwoodgrove.com/green.html.
About Don Sebastiani & Sons:
Don Sebastiani & Sons is a family-owned wine company based in the Sonoma Valley, with a winery in the Napa Valley. Principals Don Sebastiani and his sons, Donny and August, are third- and fourth-generation California vintners and merchants. The company was named one of the Best Places to Work by the North Bay Business Journal for the second consecutive year; that same publication also awarded company General Manager and CFO Tom Hawkins with the honor of Winery CFO of the Year. For more information on Don Sebastiani & Sons and their wines, please visit http://www.donsebastianiandsons.com/.
For further media requests about information, photography or samples please contact:
Cassie Rodriguez
707.931.2420
crodriguez(at)donandsons(dot)com