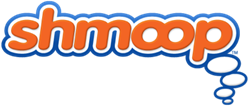 Mountain View, California (PRWEB) June 30, 2015
To become a naturalized American citizen, a person might need to be able to name the President of the United States, identify their U.S. Representative, and describe what went down at the Constitutional Convention in 1787. ("Probably some great dance parties" doesn't count.) Sound like more than most American-born people can do? Tough luck.
To pass the U.S. naturalization test—or graduate from high school in Arizona—individuals must demonstrate their knowledge of what it means to be a citizen of the United States. It's not easy, but Shmoop (http://www.shmoop.com), a digital publisher known for its award-winning Test Prep and certified Online Courses, is here to help with its U.S. Civics Test Prep.
With Shmoop, test-takers will learn all about the key concepts, names, and events that appear on the exam—without falling asleep in a pile of pencil shavings. Yes, it's possible to just memorize the answers to the test, but where's the fun in that? If anybody can make American government, American history, and something called "integrated civics" fun, it's Shmoop.
"We don't just want test-takers to get the 60% they need to pass and move on," says David Siminoff, founder of Shmoop. "We want everyone to really learn the material and get to know American government, history, and civics in a meaningful way with which they can connect."
Whether users are preparing to answer just 10 civics questions (hello, applicants for naturalization) or 100 (sorry, Arizona students), Shmoop can help them prepare for the test. The prep doesn't just review all 100 questions on the exam (with answer explanations to boot); it also serves them up in full-length practice exams of 100, bite-sized sets of 10, and groups of 25 that are just right for practice.
Discounts are available for schools and districts; contact sales@shmoop.com for more information.
About Shmoop
Shmoop is a digital curriculum and test prep company that makes fun, rigorous learning and teaching resources. Shmoop content is written by experts and teachers, who collaborate to create high-quality and engaging materials for teachers and students. Shmoop Courses, Test Prep, Teaching Guides, and Learning Guides balance a teen-friendly, approachable style with academically rigorous concepts. Shmoop sees 11 million unique visitors a month on its site and offers more than 7,000 titles across the Web, iPhone, Android devices, iPad, Kindle, Nook, and Sony Reader. The company has been honored twice by the Webby Awards, named "Best in Tech" twice by Scholastic Administrator, and awarded Annual Education Software Review Awards (EDDIES) three years in a row. Launched in 2008, Shmoop is headquartered in a labradoodle-patrolled office in Mountain View, California.