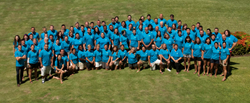 We've designed a bottom-up hierarchy that celebrates ideas and innovation," says Pete Ingram-Cauchi, CEO of iD Tech
Campbell, CA (PRWEB) June 30, 2015
iD Tech has been ranked a Top Workplace by the Bay Area Newsgroup (publisher of the San Jose Mercury News) for the sixth year in a row. Once again, the world's leading provider of summer STEM camps for kids and teens has demonstrated that nurturing fun, innovation, and collaboration leads to a happier workforce.
To support nearly 50,000 campers who will attend iD Tech summer programs in 2015, the company employs both year-round staff and more than 1,300 seasonal summer camp employees.
"We've designed a bottom-up hierarchy that celebrates ideas and innovation," says Pete Ingram-Cauchi, CEO of iD Tech. "Internal programs like iD Tech Shark Tank solicit ideas from employees at every level of our operations and create an environment where failure and exploration are celebrated."
With this year's summer camp season now in progress, iD Tech's main office is abuzz with energy. In 2015, the company expanded its all-girls summer program, Alexa Café, in response to last year's sold-out inaugural season. Alexa Café is now held in seven states nationwide, and is the largest all-girls technology program in the country.
iD Tech Mini, a new camp tailored to kids ages 6-9, debuted this summer as iD Tech's first early childhood STEM summer program. The company's lineup now includes five unique camp divisions, along with Tech Rocket, an online learning platform launched by iD Tech.
Summer programs are now held at more than 100 prestigious locations nationwide, including Stanford, Mills College, UC Berkeley, SCU, Caltech, Princeton, Yale, and more. At camp, students ages 6-18 can learn to program, code apps, engineer robots, produce videos, design websites, mod Minecraft, develop wearable electronics, and more.
Top Workplaces are determined solely on employee feedback. The employee survey is conducted by WorkplaceDynamics, LLC, a leading research firm on organizational health and employee engagement. Bay Area News Group published the complete list of Top Workplaces on June 28, 2015.
About iD Tech
iD Tech is the leader in summer STEM education programs for students ages 6-18. Over 200,000 students have attended iD Tech programs since 1999. These camps are held at over 100 prestigious campuses nationwide, including Stanford, Rice, MIT, Caltech, University of Denver, Bryn Mawr, and many others. In addition to iD Tech Camps for ages 7-17, the company also offers Alexa Café, an all-girls program for ages 10-15, half-day camps for aspiring innovators ages 6-9, and 2-week, pre-college academies for teens ages 13-18. To learn more visit iDTech.com.