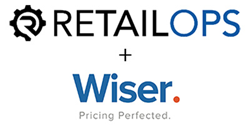 Being informed allows you to focus your business on the most profitable opportunities, while agility lets you quickly scale into these opportunities before your competition
San Francisco, CA (PRWEB) June 30, 2015
How do retailers gather real-time data? And once they get it, what do they do with it? Wiser's latest webinar will go over the most efficient ways of collecting data in real-time, and how retailers can utilize that data to get ahead of the competition. There is a plethora of customer and competitor data being created every minute to help retailers make business decisions.
On July 14, 2015, price intelligence leader Wiser will co-host a webinar to help retailers harness the power of data in real time to win over customers and beat their competitors. The webinar, titled "Leveraging Real-Time Data to Outsell your Competition" will be led by RetailOps' CEO Sam Moses and Wiser's Head of Pricing and Analytics, Luke Lin.
"As the eCommerce landscape intensifies, retailers are relying more and more on timely customer and competitor data," said Luke Lin. "Using both can help retailers gain the insight they need to win in the marketplace. This information allows them to make fast, logical decisions that will help them outsell their competitors and win a loyal customer base."
RetailOps' Sam Moses added, "Winning with data is about remaining informed and agile. Being informed allows you to focus your business on the most profitable opportunities, while agility lets you quickly scale into these opportunities before your competition. Access to both enables retailers to outsell their competition across marketplaces with ease."
This joint webinar will explain how retailers can quickly gather data to make informed decisions about their businesses. These decisions can make the difference between losing a shopper and building a new relationship.
To learn more about the webinar and register for free, click here.
About Wiser
Wiser provides a complete suite of solutions to give retailers, brands, and manufacturers the edge to stay both competitive and most importantly, profitable.
Wiser's flagship product is WisePricer, a full-featured dynamic pricing and merchandising engine that monitors, analyzes and reprices retail products in real-time. WisePricer enables retailers to boost profit margins and revenue, price with confidence, and improve merchandising through powering the development of a sound pricing strategy.
Wiser also offers a MAP monitoring solution, WiseMapper, for brands and manufacturers to monitor and protect their pricing across the thousands of retailers selling their products.
For more information on Wiser and WisePricer, please visit wiser.com/wisepricer.