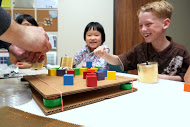 (PRWEB) June 30, 2015
Next Generation Science Standards (NGSS) are now part of the Resource Area for Teaching (RAFT) online Idea Sheet library. Common Core State Standards (CCSS) have long been an essential element of RAFT's Idea Sheets, and with support of RAFT educators and Bay Area volunteers, educators now have access to over 700 Idea Sheets that have been updated to reflect specific science, math, or English language arts standards. National Curriculum for Social Studies and National Visual Arts Standards are also noted.
Common Core and Next Generation Science Standards are state-led initiatives established to provide English, language arts, math, and science standards to better prepare students for success in those fields. Next Generation Science Standards in particular, were created to establish richness in content, aligned curricula, pedagogy, assessment, and teacher professional development.
"The adoption of Common Core (math and English language arts) and Next Generation Science Standards provides a unique role for hands-on teaching in classrooms on a national level. Educators located anywhere can access RAFT Idea Sheets. This alignment allows them to more easily incorporate RAFT's hands-on activities into their lesson plans," said Grainger Marburg, CEO of RAFT.
Since 1994, the belief that hands-on teaching builds and reinforces a deeper level of learning that assesses students on critical thinking, evaluation, and research, has been central to RAFT's mission. To support the States' and their initiative to make hands-on learning a major foundation of school curricula, RAFT enlisted the help of local volunteers to make the initial correlations between the existing Idea Sheets and the new standards. RAFT educators then verified and refined the alignments.
The RAFT Idea Sheets can be searched using a variety of ways to pinpoint activities that are suited to specific grade level, subject area, and content standard. This new search capability allows searching by tags, making it even easier to find Idea Sheets which match specific criteria.
"I'm excited to have these resources available to educators nationally. As educators utilize our hands-on activities, this will benefit their students' natural curiosity," said Edith Barr, Educational Publications Manager of RAFT.
The CCSS and NGSS Idea Sheet correlations are available to download for free via the standards grid at http://www.raftbayarea.org/idea-grid and on the individual detail page for each Idea Sheet.
About Resource Area For Teaching
RAFT believes the best way to spark the love of learning for the next generation of thinkers, innovators, problem-solvers, and creators, is through hands-on learning. A nonprofit organization since 1994, RAFT serves 12,000 educators each year who teach over 900,000 students. Find out more about RAFT and how to get involved at http://www.raft.net.