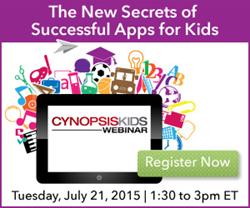 New York, NY (PRWEB) June 30, 2015
It's critical for publishers and programmers to deliver the new ways kids expect to interact with stories and games, and balance that with assurances they are complying with FTC and COPPA regulations. Join Cynopsis Kids on Tuesday, July 21 for the interactive webinar "The New Secrets of Successful Apps for Kids," which will deliver a state-of-the-art blueprint when it comes to kids apps. Learn the essential terms, regulatory conditions, trends and challenges in this maturing arena in order to stay ahead of the curve when bringing a brand into the app market.
From the latest advancements in digital storytelling to best practices for avoiding unforeseen in-app purchases, our executive panel will steer you toward optimal app development, discovery and post-purchase success. Cynopsis Kids Editor Cathy Applefeld Olson will host the July 21 webinar along with experts including regulatory compliance expert Linnette Attai, President & Founder of PlayWell LLC and Sharon Rechter, EVP Business Development & Marketing for BabyFirst TV.
At this webinar, attendees will walk away with the most current intel about how to:
-Create apps that take the platform to the next level by combining storytelling and gaming
-Provide greater opportunity for parental interaction both in real time and remotely
-Ensure compliance with COPPA, FTC and other standards
-Determine the optimal price point for your product (hint, free isn't always best)
-Make your app stand out from the crowd by optimizing discoverability and messaging for both parents and kids
-Ensure retention once your app is downloaded by blending immediate gratification and customizable play
-Build digital extensions for your stories and characters
This highly interactive webinar will allow for real time Q&A's to ensure your specific questions are answered. Register today for the Cynopsis Kids webinar "The New Secrets of Successful Apps for Kids."
All webinar attendees will receive full access to speaker presentations for 1 year, along with a certificate of completion. Webinar tuition is based on location, not number of participants, so each registration site can have multiple participants for one low price. Questions? Contact Trish Pihonak at trish(at)cynopsis(dot)com.
About Cynopsis Media:
Cynopsis Media is a division of Access Intelligence LLC. The Cynopsis Media family of products includes Cynopsis, Cynopsis Digital and Cynopsis Sports daily e-publications, weekly Cynopsis Classified Advantage e-publication, Special eReports, Event/Summits and a strong database of Classifieds and more. Visit cynopsis.com.
###