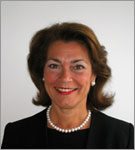 Chicago, IL (PRWEB) June 30, 2015
Linda C. Mack, Founder and President of Mack International LLC, the premier family office executive search/human capital consulting firm, and Dennis T. Jaffe, Ph.D., renown author and independent consultant, gave a special presentation on June 11, at a meeting of STEP, The Society of Trust and Estate Practitioners, titled "How to Build a 100 Year Family Enterprise."
Linda Mack's presentation focused on the critical role a family office plays when proactively supporting the family's efforts to sustain a 100-year family enterprise. Dennis Jaffe shared research he has conducted on the qualities and characteristics of Generative Families who have successfully sustained their family enterprise across several generations. Together they covered the important and evolving relationships between the family, family office and family enterprise.
Mack presented the characteristics of family offices that have worked to successfully support and sustain a 100-year family enterprise by using a detailed case study to illustrate a family office evolution over a period of 30 years. The case study walked through the evolution of a family office from the initial stage when established by the first-generation wealth creator, through successive stages over the course of 30 years. Mack described in detail how the family office and governance structures evolved over that period and how the case study family office leadership played a very key role in proactively supporting the family in achieving their 100-year enterprise goal.
"Effective family offices work proactively with family leadership in developing and implementing initiatives to support and promote family unity and harmony, which in turn promotes long-term sustainability," Mack explained. "Solid governance, next generation engagement and education, and intergenerational communication are all essential elements for success. It's also important that the family office leadership be committed to continuously building extensive relationships with other families and expert resources in the family office and private wealth management communities, in order to consistently have access to best practices to share with their respective families."
The private seminar was a panel presentation exclusively for a group of STEP members; the second in a two-part series on closely held business enterprises.
About Mack International LLC
Mack International is the premier, boutique retained executive search and strategic management/human capital consulting firm, serving national and international clients in the family office, family business enterprise and the wealth management industries. Founded in 2002, the firm has achieved an exceptional track record of success as evidenced by consistent referrals, repeat engagements and long tenures of candidates placed. Founder and President Linda C. Mack has established proprietary methodologies such as the Mack 360© and is credited for having coined the term "expert generalist" in the industry. For more information, visit http://www.mackinternational.com or call 800.976.0015.
About STEP
STEP is the worldwide professional association for those advising families across generations. It promotes best practice, professional integrity and education to its members. Its members help families plan for their futures: from drafting a will or advising family businesses, to helping international families and protecting vulnerable family members. Today it has over 20,000 members across 95 countries. They include lawyers, accountants and other trust and estate specialists. See also http://www.step.org for more information.