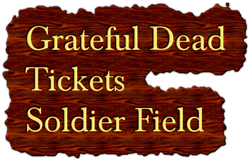 Chicago, IL (PRWEB) June 30, 2015
Ticket Down is a reputable source for authentic Grateful Dead tickets for their show at Soldier Field over the 4th of July weekend. Concertgoers can add promo/coupon code GRATEFUL-DEAD-2015 for added savings.
Long-time fans of "The Dead" and those who have only recently caught on to their innovative sound, will not want to miss what is sure to be history in the making. Over the July 4th weekend,the Grateful Dead are performing their "Fare Thee Well: Celebrating 50 Years of the Grateful Dead".
Unlike other performances the band has been doing since the loss of Jerry Garcia almost 20 years ago, this performance is truly the last time they will play together. This reunion show features Mickey Hart, Bill Kreutzmann, Phil Lesh and Bob Weir joined by special guests including Trey Anastasio and Bruce Hornsby. The concert dates are almost 20 years to the day since the whole band performed at the venue in 1995. It was the last show in which Garcia ever performed, and so it is a tremendous event for fans of the band.
It is impossible to summarize the lifespan of this unique band. Dating from the psychedelic 60s, the group has earned legendary status for its messages of peace, love, and "mind expansion". They are a global phenomenon with some fans taking to the road as proud "Deadheads", touring with the band and following them on their many stops. To say they have attained a cult status is putting it fairly, and yet they have genuinely earned such regard.
The Grateful Dead have never been mainstream - even in the age of '60s rock - and yet they have obtained star status nonetheless. This is due to the quality of their live shows, the influences of the band's founding members, and the group's unique blend of bluegrass, folk, funk, and free form "jamming". Far beyond the hippy movement of the '60s and '70s, the music has evolved over time and as membership has changed and shifted.
Their most successful years are thought by many to be from 1967 through 1995. It was during this period that the band emerged as a unique voice and began garnering a reputation as "alternative", and in some areas as counterculture. A lot of incarnations of The Grateful Dead occurred during this period, but it was the death of Jerry Garcia that caused the group to officially disband.
It has only been during reunion tours and gigs that the true Grateful Dead have played together, and the upcoming "Fare Thee Well" performances are the last chance to witness this musical phenomenon in person (or via broadcast performances in many areas of the country).
About TicketDown.com:
Ticket Down delivers tickets to sold out concerts and events worldwide when no one else can, and they do so at discounted prices. This popular ticket exchange also has authentic Grateful Dead tickets for their 50th anniversary show in Chicago. Concertgoers can find field seats for Grateful Dead at Soldier Field along with front row seats, floor seats, box seats, parking passes and more.
Note: Ticket Down is not associated with any of the artists or venues mentioned in this release. The names that are used in this release are purely for descriptive purposes. We are not affiliated with nor do we endorse any sports teams or venues in this release.
Check out our discount codes online for all upcoming events. Ticket Down has low overheads which allow this well-known ticket site to keep prices competitive.