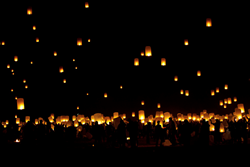 This one-of-a-kind event will become a family tradition for years to come
(PRWEB) July 01, 2015
Lights will dot the sky when thousands of Chinese lanterns are released in cities all over the US. After a successful spring season, The Lantern Fest has announced the locations for its much anticipated fall tour. Event organizers anticipate thousands of people from the surrounding communities will attend this family-friendly festival.
"We can't wait for our Fall Tour," said Spencer Humiston, Lantern Fest event director. "We are excited to open various new locations and implement dynamic new features to make this season our best yet!"
The fall season will start a little early when The Lantern Fest makes a stop in Omaha on August 29. Lanterns will then float through Cincinnati, The Poconos, Grand Rapids, Reno, Olympia, Colorado Springs and other cities around the country.
The Lantern Fest has been quickly gaining popularity since its establishment in 2014. People of all ages can enjoy this unique event. Equipped with s'mores, snacks, music, face painting and other activities throughout the night, the event promises an evening to remember before the spectacular lantern launch.
"People come from all over to celebrate a milestone, remember a loved one, turn over a new leaf, or just to snap some pictures for Instagram and marvel at this magnificent spectacle," said Lantern Fest co-founder TR Gourley. "This one-of-a-kind event will become a family tradition for years to come."
Lantern Passes are available for all participants ages 16 and over. They come with a wristband (granting admission to the event), a lantern, a s'mores kit, and a lighter. Admission for children ages 4 to 15 is only $5.
All are welcome to join in the fun. Visit http://www.thelanternfest.com for more information about The Lantern Fest dates and locations or check out what fans have to share on Facebook at http://www.facebook.com/thelanternfest
About The Lantern Fest
Historically Chinese Lanterns were used to symbolize good fortune, request favorable weather, or to celebrate the life of a loved one. But in 2015, The Lantern Fest transformed this ancient tradition into a family-friendly festival. There is food, music, s'mores, children's entertainment and, when the sun goes down, lanterns will light the sky in one spectacular release.