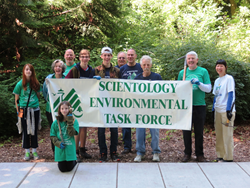 Seattle, WA (PRWEB) June 29, 2015
This year's World Environment Day (WED) theme — "Seven Billion Dreams. One Planet. Consume with Care" — rings particularly true with the members of the Church of Scientology of Seattle's Environmental Task Force. For the past 25 years, they have been working to keep Seattle green.
The volunteers were honored at a WED open house at the Seattle Church on June 5 as the task force was recognized for holding the longest-running membership in the City of Seattle's Adopt-A-Street program. Task Force volunteers have donated more than 2,000 volunteer hours cleaning up and maintaining Kinnear Park over the past 15 years. Their anti-graffiti activities, including work on murals in downtown Seattle, have helped beautify the urban landscape.
A representative of the Seattle Parks and Recreation Natural Resources Unit presented an overview of what his unit is doing to preserve Seattle's local parks and forestry and how the work of the Task Force and other community and church groups fits into the overall picture.
The Scientology Environmental Task Force works in tandem with the Seattle chapter of The Way to Happiness Foundation, which believes in putting the precept "Safeguard and Improve Your Environment" into active service. World Environment Day would not be complete for without the rolling up of sleeves, which was why the "real" celebration was the following day, with a dozen volunteers from both groups spending this day in a yet another cleanup of their adopted lower Kinnear Park.
About [The Church of Scientology of Seattle
The Church of Scientology of Seattle is an Ideal Sci Organization. Its facilities, opened in July 2010, are for the entire community—a meeting ground of cooperative effort to uplift citizens of all denominations.
About The Way To Happiness
The Way to Happiness was written in 1981. Immensely popular since its first publication, more than 109 million copies have been distributed in 111 languages in 209 countries, territories and dependencies.
The Church of Scientology and its members are proud to share the tools for happier living contained in The Way to Happiness with all who also have the goal of a better world. For more information, visit http://www.Scientology.org/thewaytohappiness.