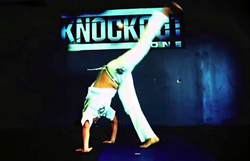 Liporidex has a strong athlete customer base, and now we're excited to be branching out into a new niche to help these athletes train harder and reach their goals.
San Diego, CA (PRWEB) June 30, 2015
Nuretix Research, creators of the top sports nutrition brand, Liporidex, announced today a partnership with Knockout Zone Miami (KO Zone), a state-of-the-art training facility owned by leading MMA, boxing, Muay Thai, Taekwondo, strength and conditioning specialist and CrossFit Coach, Diego de Vera. The partnership will provide KO Zone clients and athletes with Liporidex Fitness Formulas to help them advance in their sport, and maximize their results.
"Partnering with Diego and KO Zone is a great gift for both parties," said Dr. Emeka B. Okwuje, CEO and founder of Liporidex. "Liporidex has a strong athlete customer base, and now we're excited to be branching out into a new niche to help these athletes train harder and reach their goals. We're also looking forward to working closely with, and learning from, Coach Diego, and sharing his knowledge with our loyal customers."
Liporidex offers high performance supplements that are MD formulated, all-natural, scientifically researched, safe and effective, and that help enhance overall health and fitness. Liporidex has several targeted formula options for users including fat loss, powder-based formulas for pre and post training, health and longevity, reduced caffeine and stimulant-free versions, as well as pure energy, weight loss and weight maintenance. Whether someone is looking for more energy and endurance, or to drop some weight, Liporidex has a formula just for them – without eliciting any unwanted side effects, such as crashing or jitters.
Coach Diego has been using the products himself, as well as sampling on his clients and athletes, for the past several months, and he has seen some incredible results so far. "We're excited to have KO Zone fueled by Liporidex, and have been searching for a great partnership like this one for a long time," said Coach Diego de Vera. "It's great that we've been able to provide the people of Miami with a gym that features everything from weights to military style training classes, and now we can help our clients out even more by providing them with high quality products that are both safe and effective."
To celebrate the new partnership, KO Zone is encouraging people that live in Miami or South Florida to come and check out the facility and receive a one on one consultation with Coach Diego to get customized advice on Liporidex, and to help them start a new diet and exercise program. He will also include a free 2-week pass to jump-start the exercise program to help people get turbo charged results.
About Knockout Zone:
Knockout Zone Miami is a full fitness facility with weights, cardio equipment, classes, CrossFit, boxing, Muay Thai, MMA, military training, Tae Kwon Do, Brazilian Jiu Jitsu, Judo, Capoeira, kids programs, and so much more. Knockout Zone provides personal training from coaches that are highly skilled and most of which have competed themselves. To learn more about Knockout Zone, visit knockoutzonemiami.com.
About Nuretix Research Labs, LLC
Headquartered in San Diego, California, Nuretix Research Labs, LLC is a privately owned and operated company dedicated to the research, development and production of high quality, safe and revolutionizing nutritional supplements and metabolism boosters. Dr. Okwuje launched the company in 2007, bringing to life the careful collaboration of medical and fitness professionals in the form of Liporidex Fitness Formulas. Each of their diverse supplements is manufactured to meet or exceed all applicable industry standards. Liporidex supplements are 100% natural, consist of ingredients that have been put through the rigors of clinical testing for over 35 years, and are ranked among the best fat burners that work on the market. Visit myliporidex.com for more information or connect with the company via Facebook and Instagram.