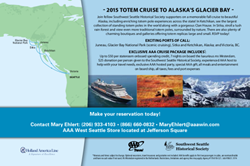 "we are always happy to help where we are needed. It's wonderful to be a part of the Seattle Historical Society's efforts to preserve our history."Duke Moscrip
Seattle, WA (PRWEB) June 30, 2015
Pacific Northwest-based seafood chain Duke's Chowder House announces open registration for its custom cruise to Alaska that it is sponsoring this September. Over the course of the seven night round trip cruise, guests will board the MS Westerdam of the Holland America Line to experience special cooking demos, shore excursions, social activities and a historical presentation of the Alaska and northern British Columbia origins of Seattle's colorful totem poles. The cruise benefits the Southwest Seattle Historical Society. Owner Duke Moscrip says, "We are always happy to help where we are needed. It's wonderful to be a part of the Seattle Historical Society's efforts to preserve our history."
Duke's Alaska Totem Cruise will depart from Seattle's main port on Saturday, Sept. 19, and will travel north to Alaska's Glacier Bay before returning on Saturday, Sept. 26. Passengers will enjoy special cooking and socializing opportunities hosted by Duke's Chowder House Owner Duke Moscrip and Executive Chef "Wild" Bill Ranniger aboard the cruise.
In addition to covering the origin of Seattle's totem poles, featured speaker Dan Kerlee will present a slide show that encompasses other examples of Northwest Coastal Indian art and culture that were displayed at the historic 1909 Alaska-Yukon-Pacific Exposition (Seattle's first World's Fair) and the 1911-1914 Golden Potlatch festival (predecessor of Seafair).
The uniquely enriching totem pole encounters that passengers will experience along the course of the trip include:

Ketchikan: Largest collection of standing totem poles in the world as well as home to the Saxman Beaver Clan House featuring masterful carvings on the interior and exterior of the facility crafted by artists such as Nathan Jackson and Lee Wallace.
Sitka: Traditional totem poles amidst a lush rain forest.
Juneau: an afternoon and evening in this active and interesting port of call
The cruise also will journey to Glacier Bay National Park and make its final stop in Victoria, B.C.
While the price of the cruise varies on the particular package and amenity options selected by the guest, by booking in the Duke's cruise, guests will enjoy special amenities just for the Duke's group.
The fast-approaching deadline to register for the cruise is July 6th–or until spaces have been filled. Not only will the cruise be a special, once-in-a-lifetime opportunity for passengers but also $25 of every registration fee will be donated directly to the Southwest Seattle Historical Society to preserve the history of the area and promote related research and educational efforts.
To find more details about Duke's Alaska Totem Cruise, please visit the Southwest Seattle Historical Society or click here. For booking information, contact Mary Ehlert of AAA Travel at 206-933-4103 or 866-660-0832. Learn more about Duke's Chowder House, its menu and its sustainable seafood efforts by checking out its website (DukesChowderHouse.com).
For media inquiries, contact Tina Carey at askbettina(AT)gmail.com.
About Duke's Chowder House:
Dedicated to bringing its customers the best every day, Dukes Chowder House operates six restaurants throughout the Puget Sound region and boasts membership of 195,000 in its popular VIP club. Founder and Owner Duke Moscrip – together with his son and partner John Moscrip – continue their passionate journey to source all wild, natural, healthy and fresh tasting ingredients. Duke's food is free of hormones, antibiotics and free of harmful chemicals. Moscrip pioneered the concept of "ice chilled, better than fresh seafood." Duke's is an upscale, casual Pacific NW seafood concept offering signature, flavorful, 100% sustainable wild seafood, Award Winning Chowder and grass fed burgers in a gathering place that is friendly, comfortable, unpretentious and filled with personality. Guests sum up their favorable assessment of what Duke's Chowder House has to offer with three words: "It's sooo good!" Duke's is honored to have received the highest seafood restaurant rating in the State of Washington by Fish2Fork, a leading evaluator of worldwide seafood restaurants, garnering a 4.5 out of 5 (no higher rating in the world). Learn more and join the VIP club at Duke's Chowder House.