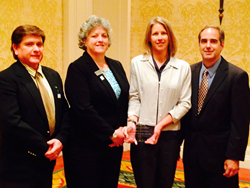 Please help NYSATA in celebrating its accomplishments and congratulating these worthy award recipients!
Albany, NY (PRWEB) July 16, 2015
Some may define success as the sum of small efforts repeated day in and day out – and the ongoing efforts of New York State Athletic Trainers' Association (NYSATA) and its members continue to be acknowledged and applauded by their peers. Most recently, NYSATA was recognized with two national awards, and a number of members also received honors at the national level.
NYSATA was honored for the first time with the NATA's Daniel L. Campbell Legislative Award (Class II) for its extensive efforts in Albany and home districts. Governmental affairs initiatives aimed to network with legislators and increase awareness about athletic training and the role of athletic trainers (ATs) regarding sports safety issues and athletic healthcare. Kudos to NYSATA Governmental Affairs Chair, Christine Jenkins, and her committee for their dedication and time in leading NYSATA's legislative push.
Additionally, NYSATA was chosen as the National Athletic Trainers' Association (NATA) Public Relations Contest "Best Overall Campaign" Award winner for 2015 for its outreach and promotion endeavors during National Athletic Training Month (NATM) this past March. Thanks to the enthusiasm and resolve of the NYSATA leadership and members - including the NYSATA Board & Region Representatives; Public Relations Chair, Kristy Hart; Social Media gurus Jenny Petruzzo, Dave Byrnes, & Doug Sawyer; and the "NATM in NYC" organizer Stony Brook University AT Education Program (ATEP) and all NYS ATEPs - this is the third consecutive award – and most prestigious - for public relations in New York State, following two notable years receiving the "Best State Effort" Award.
NYSATA also boasts a number of members whose hard work, dedication, and years of service were recognized with national awards during the 2015 NATA Convention and Symposium in St. Louis, MO in late June. Andy Smith, MS, ATC (Canisius College) was awarded a 2015 NATA Athletic Trainer Service Award for his extensive years of volunteer service and committee work at the local and state levels. Ken Cameron, PhD, MPH, ATC (USMA West Point) was given distinction as a NATA Fellow (FNATA) to recognize his professional achievement as an accomplished scholar in athletic training-related research, education, and service. Peter Koehneke, MS, ATC (Canisius College) was a recipient of the Board of Certification (BOC) 2015 Dan Libera Award for dedication and contributions to the national certification program for ATs.
Aimee Brunelle, MS, ATC, EMT (Jamestown Community College; NYSATA President) was honored as the 2015 recipient of the NATA College/ University Athletic Trainer of the Year at the Junior College/ Community College level. Paul R. Geisler, EdD, ATC, Chris Hummel, MS, ATC, and Sarah Piebes, MS, ATC (Ithaca College) received the Outstanding Non-Research Manuscript Award 2014 for their column, "Evaluating Evidence-Informed Clinical Reasoning Proficiency in Oral Practical Examinations," in the Athletic Training Education Journal (Volume 9, Issue 1 (Jan.-March 2014)). Graduating athletic training student (ATS) Aliza Kamman (Ithaca College ATEP) was awarded a 2015 NATA Research & Education Foundation Undergraduate Scholarship.
NYSATA is proud to further recognize the accomplishments of its members. Please help congratulate these worthy award recipients. NYSATA also extends its sincere appreciation to the professional volunteers and members who contributed their time and energy to the public relations and governmental affairs initiatives, helping to advance AT in New York State – these awards are certainly a direct reflection of their efforts.
NYSATA, founded in 1976 and incorporated in 1989, stands to advance, encourage and improve the profession of athletic training (AT) by developing the common interests of its membership for the purpose of enhancing the quality of healthcare for the physically active in New York State. Athletic training is practiced by certified athletic trainers (ATs), who have expertise in the assessment, emergency management, rehabilitation and prevention of acute and chronic sport-related injuries, illnesses and conditions, including concussions. Comprised of over 1,200 certified and practicing athletic trainers, NYSATA is the state-wide affiliate of the regional Eastern Athletic Trainers' Association (EATA) and District Two of the National Athletic Trainers' Association (NATA).