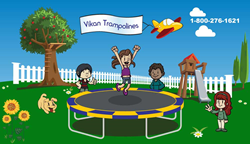 We sell trampolines all across Canada and the USA
Vancouver, BC (PRWEB) June 30, 2015
Experienced Edmonton trampoline company, Vikan Trampolines, has recently announced that they will now sell trampolines all across Canada and the USA. With the constant expansion in their service area, it came as no surprise that Vikan Trampolines now supplies its professional and leisure trampolines to most of North America. The company has its manufacturing and research facility in Langley, British Columbia, while they set out to expand their sales to other parts of the world.
"We sell trampolines all across Canada and the USA," states a representative from Vikan Trampolines. "We've ship to Toronto, Montreal, Ottawa, Edmonton, Calgary, Winnipeg, Halifax, Saskatoon, Regina, Vancouver, Washington, Oregon, California, New Mexico, Montana, Nevada and Colorado - to name a few."
Given the increased demand for trampolines in Canada and the USA for professional and leisure purposes, coupled with the high performance quality product line offered by Vikan Trampolines, it can be safely said that the company's service area will be expanding further than what it is at present. They have several incentives for customers who would like to purchase a trampoline for their family. Vikan Trampolines' half price shipping special deal is offered to customers that make a trampoline and enclosure purchase.
About the Company
Vikan Trampolines is a trampoline manufacturing and retail company in British Columbia, Canada. In 1981 Ivan MacMillan founded Freedom Sports Limited/ Vikan Trampolines with enthusiastic support and encouragement from members of the Shasta Trampoline Team of New Westminster. Over the years, the association with the Shasta team has played an important role in product development, research, quality, safety and education. Since the company's founding, the world has entered a new millennium, and trampoline has become an official Olympic sport. However, the company's vision remains the same: to provide the best value trampoline for the customer and maintain a 100% satisfaction rate. For more information, log on to https://trampolineshop.com/ or call 1-800-276-1621.