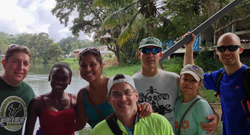 We plan the trip so you can focus on the mission.
Austin, TX (PRWEB) June 30, 2015
Mission trip; a trip taken with the intended purpose of benefiting someone. At Insouciance Abroad mission trips are a key piece of their service offering. Besides the dozens of mission trips that have established them as experts in planning mission trips, the team at Insouciance Abroad have a personal connection to mission trips and go the extra mile ensuring the outcome. And what better way to use travel planning skills than with a group that has dedicated their resources to help others.
This week members of the Insouciance Abroad team are onsite at the North American Division of Seventh-day Adventist's pastoral convention, Called, in Austin, TX to showcase how Travel Simplified makes mission trips easier, more successful, and allows the group to focus on their mission.
Over the years of planning trips a unique, and often unexpected result kept recurring. Most groups would set out on a mission trip, with goals of helping others, building a new church, aiding in the work of a clinic or delivering cheer to an orphanage. And most groups return with a greater value for life, disinterest material possessions, and relationships that last a lifetime. Mission trips aren't only about helping others, as with many types of travel, provide a perspective and appreciation unlike any other. Invest in lives within a community but supporting another.
Have you always wanted to take a mission trip? And don't know where to start? Perfect, allow Insouciance Abroad to support that goal you have and show you how to not only organize a trip, but make it ultimately successful.
Insouciance Abroad is committed that everyone receives the singularly life-changing experience of travel, simplified. We handle all the details of your travel, near and far, so that you don't have to, you can focus on the experience. Insouciance Abroad means travel, simplified. Whatever your preferences and needs, we're here for you. And when everything aligns and everyone arrives, we invite you to breathe deep and simply enjoy the moment.