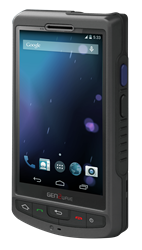 Bundang-gu, Seongnam-si, Gyeonggi-do, Rep of Korea (PRWEB) July 08, 2015
Gen2wave (http://www.gen2wave.com), a leading manufacturer of industrial smartphones has always led the market with innovative mobile computing concepts in response to market demands. Once again, it introduces a market leading Android rugged smartphone with superlative specifications, the RP1600.
There are plenty of rugged and non-rugged smartphones available for users to choose, that on face value appear to suit their environment. However, almost of all are missing key elements required to deliver the complete package for industrial users, such as processing power and battery autonomy.
The RP1600 is the first rugged smartphone armed with an octa-core processor (the latest version of Samsung Eynose processor), 3GB RAM and 16GB ROM as standard. Both benchmark tests and user experience have identified the stand out performance of this super-powered rugged smartphone. In total performance ranking of Antutu, the RP1600 is positioned as No. 1, leaving all brand-new personal smartphones behind of it.
Rugged, tested and proven.
The RP1600-1.5m drops (an experiment to prove RP1600's solidity) and IP64 sealing (a grade of waterproofing and dustproofing) shows what professional terminals should have. Android KitKat 4.4 and a 13 Mega Pixel camera highlight its superiority over other rugged smartphones.
A wide range of radios and automatic data capture functions, such as 1D Laser, 2D Imager, NFC, contact-type IC card reader, finger printer & OCR(MRZ) and a snap on MSR in the RP1600, deliver a complete range of data capture and uthentication platforms.
The RP1600 also provides both capacitive or resistive touch screens for outdoor users working under severe environments.
The battery and cover of the RP1600 are combined into one body enabling a simple battery swap out. The design delivers a superior battery management solution over personal and semi-rugged smartphones. The compact 4.3 inch RP1600 display provides users with perfect one-hand operation experience. Moreover, a complete range of accessories—such as a quad-dock Ethernet cradle, professional vehicle cradle, vehicle chargers, versatile Snap-on with serial and USB connectors, and cable adaptors that directly connect to the RP1600—are already available and ready to serve RP1600 users in the field.
Understanding the entire processes starting from application development and installation to device management, Gen2wave provides essential S/W tools—simple in use but powerful at meeting both normal users and administrator's needs.
The RP1600 has a variety of superior features such as G2KIOSK restricting usage of device and application for security purpose, G2SETUP customizing initial device settings, applying identical settings to multiple devices in an efficient manner, OTA(Over-The-Air) upgrades and so on.
Chanho Lee, CEO of Gen2wave, said, "The RP1600 is something beyond your normal expectation."
Samples are available now and contact for further information at info(at)gen2wave(dot)com.