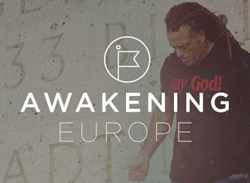 "Awakening Europe is sure to stir up a new found interest in God in even the toughest skeptic" - Wendy Alec
(PRWEB UK) 1 July 2015
Once a rallying place of Nazi propaganda, Nuremberg became known in 1945 for its crucial role in addressing war crimes and now seems poised to become the birthplace of a spiritual rekindling that is coming to Europe. For four days, top musicians and passionate speakers will take to the stage to inspire crowds.
Hosted by Ben Fitzgerald of GODFest, speakers at the Grundig Stadion in Nuremberg will include Todd White of Lifestyle Christianity; Heidi Baker of Iris Global; Matthias (Kuno) Kuhn of GPMC in Switzerland; and Daniel Kolenda of Christ For All Nations (CFaN). Featured bands are Jesus Culture; God Encounter; Gospel Forum and the Outbreakband; along with recording artists, Jake Hamilton and Chris Pöschl.
Awakening Europe was birthed out of a vision Ben Fitzgerald and Todd White received in 2014 while visiting Nuremberg. They saw thousands gathering from all over Europe to pray that God would change history. "This is not just a Christian event," says Ben. "We've invited people from the UK to the Ukraine, Charismatics to Catholics, to come together and take back history. We aim to equip a new generation to live a lifestyle full of love and power that will see Europe changed as millions encounter Christ."
Select sessions of Awakening Europe will be aired LIVE on GOD TV to its global reach of 951 million viewers and every session will be streamed live on GOD TV's website. "Awakening Europe is sure to stir up a new found interest in God in even the toughest skeptic," said Wendy Alec who heads up GOD TV.
GOD TV has an office in Hamburg, Germany that oversees the network's European Operations. GOD TV's Regional Director for Europe, Jens Leweling sees Awakening Europe as an historic event not only for Germany, but for all of Europe. "The nations are gathering in the very place where evil once ruled, to make a spiritual declaration for years to come and GOD TV viewers from all over the world will be part of it."
GOD TV is available in the UK on SKY (580), Freesat (694) and Virgin (279). Also online via smartphone (GOD TV App); PC (god.tv); or TV screen, (Roku).
For more details about Awakening Europe visit awakeningeurope.com and see god.tv for more information about GOD TV.
About GOD TV: GOD TV took to the airwaves in the UK in 1995 and now transmits from Jerusalem to a global reach of some 900 million people. The network's worldwide broadcast license is held by Angel Christian Television Trust Inc, a US not-for-profit corporation. GOD TV is owned by several Angel Charities internationally, which in addition to the network's media outreach, assist people in the developing world. GOD TV adheres to the UK Evangelical Alliance Basis of Faith. Its signal is broadcast Free To Air (FTA) and is accessible to all.
Contact: GOD TV's UK & Ireland Regional Director, Fergus Scarfe at fscarfe(at)god(dot)tv
GOD TV Broadcast HQ: Jerusalem, Israel. International offices: USA (Orlando, Florida; Kansas City, Missouri) UK & Ireland (Plymouth, England), Europe (Hamburg, Germany), Asia & Middle East (Chennai, India; Sri Lanka), Africa (Cape Town, South Africa; Nairobi, Kenya), Australasia (Melbourne, Australia).