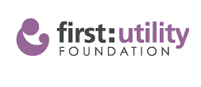 "I am delighted that we've been able to support some excellent, grassroots charities in their important work to help improve the lives of vulnerable people across the UK." - Dr John Roberts, Chair of First Utility Foundation
London, UK (PRWEB UK) 30 June 2015
First Utility Foundation is pleased to announce its inaugural funding round to charities across the UK. Funded by one percent of First Utility's profits annually, the First Utility Foundation has been able to make initial grants to 11 charities supporting vulnerable individuals and families across the UK.
Three of the 11 charities received a Flagship Grant from the First Utility Foundation to fund a specific initiative or project:

AbilityNet delivers free in-home IT support and training for elderly or disabled people across the UK. It is receiving a grant to expand its reach and enhance its network of volunteers as it works to combat the isolation and loneliness of many disabled and elderly people.
The Trussell Trust runs the UK's largest network of foodbanks, giving emergency food to those in crisis and going hungry. It is being awarded a grant to improve its referrals programme for beneficiaries under its 'More Than Food' initiative.
Rays of Sunshine will use its grant to fulfil hospital ward wishes to help create environments which are less frightening for seriously ill children. These will help children to feel 'normal' by enabling them to socialise with friends whilst remaining under the supervision of their medical team.
The eight remaining general support grants help cover the charities' core costs. The chosen charities in this grant round cover a wide range of issues across the UK including training and work experience for people with learning disabilities, providing learning support for children with autism, alleviating poverty and deprivation as well as providing advice and casework support to low income families. These charities are: Contact the Elderly, DASCAS, Junction 12, Peach, Riverside Advice, U Can Do IT, Where Next and Z2K.
Dr John Roberts CBE, Chair of First Utility Foundation's board of trustees said: "The Foundation was initially set up to give something back to the wider community as a thank you to First Utility customers. As we make our first round of grants available I am delighted that we've been able to support some excellent, grassroots charities in their important work to help improve the lives of vulnerable people across the UK."
Founded last year as an independent charitable trust run by a board of independent trustees, First Utility Foundation is funded by one percent of annual profits of First Utility, the UK's largest independent energy supplier. From 2016 the Foundation will issue grants twice yearly to charities and charitable projects across the UK supporting vulnerable families and individuals. Specifically the Foundation will issue grants to small charities that:
Change the lives of the UK's most vulnerable families and children for the better
Improve the quality of life for older people
Make life better for people with disabilities
For more information on the First Utility Foundation and how to apply for a grant, please visit http://www.first-utility-foundation.org.uk/who-can-apply/ The next grant cycle opens in 2016.
****
About First Utility Foundation
[First Utility Foundation __title__ First Utility Foundation] is a charitable trust funded and created by First Utility, the UK's largest independent gas and electricity supplier. Run by a board of independent trustees, the Foundation supports projects that make a genuine difference to the lives of vulnerable families and individuals across the UK by awarding grants to charitable programmes that can deliver real improvement to the quality of life. The funding is awarded in the form of grants to those charities determined by the board of trustees that meet the criteria and goals of the Foundation. The First Utility Foundation is funded by a donation from First Utility which has pledged 1% of pre-tax profits to the Foundation each year, every year, as part of its commitment to help those in need.