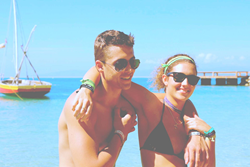 "We are so honored to be partnered with an established fashion house like Michael Stars who values social responsibility," says Birgit Coles, President and Co-Founder of Simbi
Fort Lauderdale, FL (PRWEB) July 01, 2015
Fashion and philanthropy are blending this summer with an exclusive collection from fashion and compassion brand, Simbi, now available through the luxury fashion stores of Michael Stars. The special collection of unique handmade clay bracelets and hair ties from Simbi will provide clean water and stable jobs for the people of Haiti. Eighty percent of the Haitian population lives in poverty with more than 50% having no access to clean water. Each and every Simbi item sold provides funding to purify at least 1 gallon of water per day, enough to support two people.
Michael Stars already redefines contemporary clothing with luxury essentials that embody the modern California lifestyle. Since February 2015, Simbi and Michael Stars have brought clean water, sustainable jobs and improved and empowered Haitians and their families through fashion.
"We are so honored to be partnered with an established fashion house like Michael Stars who values social responsibility," says Birgit Coles, President and Co-Founder of Simbi.
Simbi's one-of-a-kind clay bracelets and hair ties are a fun addition to any wardrobe. The exclusive collection of handmade clay bracelets and head hair ties at Michael Stars come in a medley of colors and designs that are inspired by eye-catching Haitian art. Each specially made Simbi Haiti clay bracelet and hair tie purchased through Michael Stars gives clean water to the people of Haiti, as well as a minimum of 15 sustainable jobs.
Each clay bracelet is lovingly handmade in the mountains of Haiti through a process that involves rolling, baking and painting each bead. That means each piece is unique — just like the person who wears it. Since each bead is completely organic and biodegradable, they nurture the earth through their complete lifecycle, reminding the wearer that we are all in this together.
Let your style have a positive global impact this summer. The Simbi collection is now available at michaelstars.com and retail stores nationwide.
ABOUT SIMBI
For over 20 years, Birgit Grossmann Coles and Lori Manuel Steed have shared a passion for art with a shared compassion for the people of Haiti. When the two friends experienced the devastating results of the earthquake in Haiti in 2010, both were compelled to do something to help. Simbi's brand mission is to 'Save Lives. Improve Lives. Empower Lives.' for the people of Haiti. The perfect blend of passion for art and compassion for people has built Simbi into a brand that is recognized for its cool beach style and for transforming the daily lives of Haitian people.
For more information or to request a sample, contact http://www.simbihaiti.com or Leah(at)chicexecs(dot)com
Leah Cybulski
Senior Public Relations Account Executive
ChicExecs Public Relations &
Channel Management - CHICAGO
ChicBlvd Inc. LLC
P: 708.426.8730
Leah(at)chicexecs(dot)com