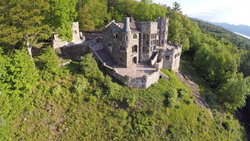 "I explained to my son that this was a temporary living space, and that someday I would build...a place where we could create special memories together. I then found myself saying the words… Jason, one day I will build you a castle."
SARATOGA SPRINGS, NY (PRWEB) July 01, 2015
The Keir Weimer Team of Select Sotheby's International Realty, an Adirondack Park Real Estate brokerage team, announced it has listed the one-of-a-kind Highlands Castle property in Bolton Landing, NY overlooking Lake George. Price is available upon request.
Highlands Castle is perched on the top of an Adirondack Mountain with 180-degree panoramic views of beautiful Lake George, the Queen of American Lakes. Privacy and space are key features of this property, as the castle sits on over 8 wooded acres and includes a 2,000-foot long private driveway that leads to the castle gates.
In 1978, Lavender found himself a single father. Lavender and 3-year old Jason were sharing a home with friends to save money. The living situation drove Lavender to dream and make promises for a better life. "I explained to my son that this was a temporary living space, and that someday I would build a home where just the two of us would live, a place where we could create special memories together. I then found myself saying the words… Jason, one day I will build you a castle, " said Lavender.
"Listing Highlands Castle is a great honor for The Keir Weimer Team," said Keir Weimer, Listing Agent and President and Founder of The Keir Weimer Team of Select Sotheby's International Realty. "The first time I visited the castle it was hard to decide what kept me more captivated, the beautiful home and craftsmanship or the rare and majestic views of the Adirondacks and Lake George."
"Our team plans to focus our industry-leading marketing resources and international reach to showcase this amazing property and present it in all of its glory on the world stage," continues Weimer. "No other castle with the scale, setting or views exists in all of Upstate New York or the Adirondack Park, making this an ideal property for the right person who wants to own something truly unique and extraordinary."
About the Keir Weimer Team
The Keir Weimer Team of Select Sotheby's International Realty is the Adirondack Park's #1 Real
Estate Team. The Team specializes in working with both buyers and sellers of residential, commercial and vacant land properties. With experience in these different areas, the Team is able to provide clients with unrivaled market expertise, marketing and valuation skills, a unique white glove client experience, and negotiation skills to assist, advocate and counsel throughout the buying or selling process. Please get in touch today for a confidential consultation on how The Keir Weimer Team of Select Sotheby's International Realty can be of assistance. Properties, Adirondack resources, and contact information can be found at AdirondackPropertyForSale.com or call 315-663-7022.
About Select Sotheby's International Realty
Select Sotheby's International Realty has offices in Saratoga Springs, Lake George and Lake Placid, NY, representing extraordinary properties from the Hudson Valley/Catskill region north to the Canadian Border and West to the Buffalo/Niagra Region. For more information, call 518-580-8500 or visit SelectSothebysRealty.com.
About Sotheby's International Realty Affiliates LLC
Founded in 1976 to provide independent brokerages with a powerful marketing and referral program for luxury listings, the Sotheby's International Realty network was designed to connect the finest independent real estate companies to the most prestigious clientele in the world.
Sotheby's International Realty Affiliates LLC is a subsidiary of Realogy Holdings Corp. (NYSE: RLGY), a global leader in real estate franchising and provider of real estate brokerage, relocation and settlement services. In February 2004, Realogy entered into a long-term strategic alliance with Sotheby's, the operator of the auction house. The agreement provided for the licensing of the Sotheby's International Realty name and the development of a full franchise system. Affiliations in the system are granted only to brokerages and individuals meeting strict qualifications.
Sotheby's International Realty Affiliates LLC supports its affiliates with a host of operational, marketing, recruiting, educational and business development resources. Franchise affiliates also benefit from an association with the venerable Sotheby's auction house, established in 1744. For more information, visit http://www.sothebysrealty.com.