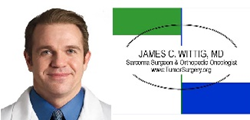 (PRWEB) June 30, 2015
James C. Wittig, MD , Vice Chairman of Orthopaedic Surgery, Chief of Orthopaedic Oncology & Sarcoma surgery at HackensackUMC and Director of the Skin and Sarcoma division at the John Theurer Cancer Center is proud to announce the implementation and distribution of his online Orthopedic Oncology and Pathology Course. The newly installed lectures are designed to education patients, students, residents, fellows and colleagues alike about the clinical, radiographic and pathologic correlation of various musculoskeletal tumors. There are a variety of orthopedic oncology and pathology slides and videos which can be watched via link provided by his team on their "Tumor Education" tab on the tumorsurgery.org website.
The course is broken up into thirteen different sections. Below is the breakdown of the YouTube videos:
1. Introduction to Musculoskeletal Tumors
2. Radiology of Musculoskeletal Tumors
3. Benign Bone Forming Tumors
4. Malignant Bone Forming Tumors
5. Benign Cartilage Tumors of Bone
6. Malignant Cartilage Tumors
7. Radiolucent Lesions of Bone
8. Small Round Blue Cell Tumors
9. Benign Soft Tissue Tumors
10. Soft Tissue Sarcomas
11. Unknown Test Cases Part A (Cases 1-10)
12. Unknown Test Cases Part B (Cases 11-20)
13. Unknown Test Cases Part C (Cases 21-29)
Dr. James C. Wittig is dedicated to dramatically changing lives of children and adults afflicted with sarcomas and other orthopedic tumors through innovative limb sparing surgeries, groundbreaking techniques and a specialized multidisciplinary approach to diagnosis and ultimate treatment. Dr. Wittig utilizes his education and extensive experience in the orthopedic oncology field and works diligently and cooperatively with other medical professionals for a seamless continuum of care. Dr. Wittig is committed to finding the most current, viable solutions in the area of bone and soft tissue tumors in particular sarcomas.
Special expertise in limb sparing surgery for pediatric and adult bone and soft tissue sarcomas, benign musculoskeletal tumors as well as complex hip and knee replacement surgery, cryosurgery, Radiofrequency Ablation (RFA) and minimally invasive biopsies.

Pediatric & Adult Sarcomas
Soft Tissue Sarcomas
Benign Bone/Soft Tissue Tumors
Shoulder Tumors
Cryosurgery/Anatomic Areas
Metastatic Bone Tumors
Radiofrequency Ablation
Minimal Invasive Biopsies
To learn more about Dr. Wittig and his practice, please follow the links below http://www.tumorsurgery.org OR http://www.njtopdocs.com/Wittig
About Us
NJ Top Docs is a comprehensive information resource of Top Doctors, Dentists and Hospitals. We are profiling over 900 Healthcare Providers and have made it convenient for you to find them.
NJ Top Docs allows patients to "meet" these providers online before making their appointment.
For more information, visit http://www.NJTopDocs.com.
You can also follow us on Facebook – Twitter – YouTube