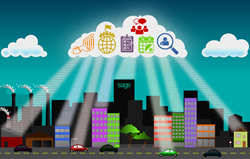 This will make it very easy to connect cloud or mobile business apps to Sage 50 Accounting
Buford, GA (PRWEB) June 30, 2015
This July, customer testing starts for Suntico's new web connector service for Sage 50 Accounting (US Edition). This new web connector service will make it very easy to connect cloud or mobile business apps to Sage 50 Accounting (US Edition).
The first app to be connected will be a new solution from Suntico to support manufacturing and wholesale companies and their sales teams.
This new app will enable sales reps to look up customer transaction history, see the status of orders, take new orders and create customer invoices and receive payments. Using Facebook-like social technologies it will support clearer and faster interaction between sales reps, customers and head office.
The new web connector service will also enable third-party developers to build apps to interact with Sage 50 Accounting data. "I am really pleased with the response we are getting from the developer community." says Hugh Johnson, Head of Business Development at Suntico. "We have invested a lot for time and effort to get this connector service right. It performs extremely well, is very easy to set up, and enables full read and write interaction with the Sage 50 Accounting data."
Interested developers can register their interest here.
About Suntico:
Suntico is an online platform to address the multi-trillion dollar productivity gap in small to medium sized businesses employing 10 to 100 people. Suntico is currently available for Sage 50 Accounting US (formerly Peachtree), Sage 50 Accounting Canada (formerly Simply Accounting), Sage 50 Accounts in the UK and Ireland, and Sage One (Ireland and UK).