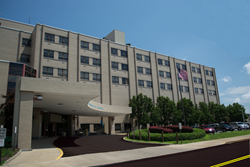 East Liverpool, Ohio (PRWEB) July 02, 2015
Today, East Liverpool City Hospital announced Pam Akin, RN, MSN, would be taking over as Director of the Surgical Center at East Liverpool City Hospital (ELCH). Pam is currently the Chief Nursing Officer at ELCH and will remain in that capacity and assume the duties of the director of surgery. Pam holds a master's degree in health care administration as well as nursing. She has a strong background with over thirty years in health care. She is very familiar with surgical centers of similar size and scope of that at ELCH and those with a focus on intimate hometown quality care. "I am excited to work with such a professional and experienced staff in the ELCH Surgical Center. Our Surgical Center is a full service general surgery center offering just about everything except open heart surgery and neurology. In today's health care world, patients have a choice of where they receive surgery. I can't imagine why someone would not want to have surgery this close to home and be cared for by local professionals who understand their needs," said Pam.
The Surgical Center at ELCH is ranked very high in many of the industry's quality measurables and currently maintains a surgical site infection rate of zero. Pam went on to say, "Our surgical center and hospital as a whole have received many quality related awards in the past few years. I really see this department as the hidden gem within ELCH. Many patients don't understand that they have a choice in where a procedure is performed. With such a quality facility this close to home I would encourage area residents to work with their surgeon to ensure their procedure is performed at ELCH." The Surgical Center at ELCH is staffed with specialized surgical nurses and technicians, many of which are local residents with countless years of experience. Chris Fening, CRNA said "In my thirty plus years as a Certified Registered Nurse Anesthetist, working in many much larger major metropolitan facilities, it is my opinion that the Surgical Center at ELCH is top notch."
To tour the facility or to ask questions please call the surgical center at 330-385-7200 or contact Pam directly at 330-386-2032.
ELCH was recently recognized as a 2013 Top Performer on Key Quality Measures® by The Joint Commission. ELCH was recognized as part of The Joint Commission's 2014 annual report "America's Hospitals: Improving Quality and Safety," for attaining and sustaining excellence in accountability measure performance for Heart Failure, Pneumonia, and Surgical Care. The Top Performer program recognizes hospitals for improving performance on evidence-based interventions that increase the chances of healthy outcomes for patients with certain conditions.
East Liverpool City Hospital is part of River Valley Health Partners (RVHP) a not-for-profit healthcare system based in East Liverpool, Ohio. The health system serves a population of more than 115,000 from throughout the tri-state area of Ohio, West Virginia, and Pennsylvania. Governed by a volunteer board of community members, RVHP has grown from one hospital founded in 1896 to a comprehensive health system encompassing the hospital, outpatient services and facilities, primary and specialty care physician practices, a home health care provider, and health and wellness initiatives. For more information please visit online at http://www.elch.org.