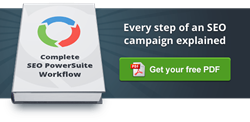 (PRWEB) June 30, 2015
Link-Assistant.Com, the software house offering the complete SEO software suite at unbeatable price, announced the release of a PDF guide to optimal SEO PowerSuite workflow. For the convenience of users, the complete guide is now available both online and as a free PDF download. SEO PowerSuite Workflow is both a detailed SEO guide that takes one through all steps of an effective SEO campaign – and a most complete SEO PowerSuite user manual, as it tells one exactly how to implement these steps using the SEO PowerSuite tools.
Erin Madison, User Experience Manager at SEO PowerSuite, explains: "SEO PowerSuite is one of the most feature-rich solutions on the market: it has 248 major features and numerous minor ones, which makes it an unbeatable solution for winning SEO campaigns."
"If users are not aware of some of the features or don't know how to apply them to their advantage, they're missing on some proven ways to driving organic traffic. To avoid this and make sure users understand the software, we've put together a complete guide to SEO PowerSuite workflow, which is now available both online and in PDF," continues Erin.
What's inside the SEO PowerSuite workflow guide?
The guide is full of actionable how-to's for beginners, and useful expert tips for those who have been doing SEO for a while.
It provides solutions for the best ways to:

Find the most cost-effective keywords for an SEO campaign;
Easily detect and fix technical issues on a site;
Optimize landing pages (the proven way);
Quickly test link profiles against penalty risks;
Find the best link building opportunities;
Reach out to link prospects effectively;
The complete SEO PowerSuite Workflow is available at http://www.link-assistant.com/seo-workflow.html.
*About Link-Assistant.Com and SEO PowerSuite*
Link-Assistant.Com is the maker of SEO PowerSuite, the all-in-one SEO software for digital agencies, search marketers and online businesses.
SEO PowerSuite is a toolset made up of 4 individual programs (Rank Tracker, WebSite Auditor, SEO SpyGlass and LinkAssistant), available in 3 editions (Free, Professional and Enterprise).
The software is desktop (Windows, Mac, Linux), which means more data, control over updates, better response time and higher interactivity.
With 248 core features and dozens of minor ones, SEO PowerSuite is by far one of the most feature-rich solutions on the market. The feature, best-loved by digital agencies, is white-label SEO reports.
Over the 10 years on the market, SEO PowerSuite has been downloaded by over 1 million people. As of June 2015, SEO PowerSuite has 570,000 customers worldwide.