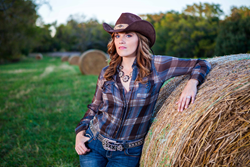 Nashville, TN (PRWEB) June 30, 2015
Singer-songwriter Holly Spears has released a music video for the song, "Who Said," from the upcoming faith-based film, "Nail 32," in which she also co-stars. In addition to the movie, the song can be found on Spears' first country EP, "Boots and Bling," which is available now at iTunes and http://www.hollyspears.com. The 8-song EP from Girl on a Mission Music is the follow-up to her 2014 Christian music EP, "Audience of One."
Watch the "Who Said" video: http://youtu.be/nIL8EhufbOM
The "Who Said" music video was produced by True Artists Studio, LLC, and filmed on location in Cincinnati, Ohio and Northern Kentucky.
In "Nail 32," Spears plays a Nashville country singer who goes back to Texas to spend time with her family in a time of need. Her father, played by Brad Johnson ("Always," "Left Behind"), is a legend not only in the Cowboy world, but in the Christian world as well. As a young man he was told he couldn't be a cowboy and a Christian at the same time, so he sold his saddle and laid down the rodeo life. As he matures he finds out that he can be both and that God wants to use him just the way he is.
"Nail 32," from JC FIlms and Flying T Entertainment, also stars Lea Penick (A&E's "American Hoggers"), newcomer Shelton Murphy, and some well-known Texan Cowboy heroes. In addition to the song "Who Said," the film includes four additional songs from Spears.
Spears will be touring with the film to different churches across the USA, screening the movie, performing songs from the film and meeting with fans. Visit http://www.nail32.com for more information on how to bring this Christian film to your church for a movie night.
The Red Carpet Premiere for "Nail 32" will take place on July 26 in Cleburne, Texas. Tickets are available at http://www.nail32.com.
For more information on Holly Spears, visit the official website at http://www.hollyspears.com or connect on Facebook at http://www.facebook.com/HollySpearsFanPage.