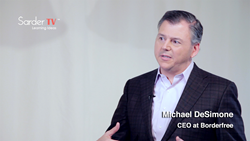 DeSimone explains what it takes for retailers to be successful in the global ecommerce marketplace and how retailers need to change their approaches to gain online customers.
New York, New York (PRWEB) June 30, 2015
Michael DeSimone, CEO and President of Borderfree, an international cross-border ecommerce solutions company, recently shared his views on his career, his company, the future of global ecommerce and learning in a video interview for SarderTV, the independent media learning channel. Speaking with Chitra Nawbatt, SarderTV correspondent, Michael DeSimone provided an insiders view of the world of ecommerce, what it is like to be CEO of a company on the fast track and why he loves his job so much.
"The world of global ecommerce is continuing to explode particularly in the retail sector," said Russell Sarder, CEO of NetCom Learning and creator of SarderTV.
"Michael DeSimone is a Chief Operating Officer who sees opportunity and is passionate about growing his company, and his industry. We are excited to be able to provide this timely interview so that others may learn from Michael's insights," said Sarder.
When Michael DeSimone joined Borderfree in January 2007, the company was in the midst of a transformation from an online financial conversion service to becoming a provider of ecommerce solutions for retailers around the world. DeSimone not only successfully led that transformation but continues to grow the company helping major companies like Saks Fifth Avenue, J. Crew, Macy's, and Williams-Sonoma expand their business in the online retail market. In the interview for SarderTV, Michael DeSimone talks about why he decided to get into the field of ecommerce, the challenges he has faced as CEO of Borderfree, what his strategies are for his company in new international markets and the changes he sees coming for the online retail market in the United States. In the educational and fascinating interview for SarderTV, DeSimone explains what it takes for retailers to be successful in the global ecommerce marketplace and how retailers need to change their approaches to gain online customers. He also discusses the future of online commerce and whether the US will ever see central e-marketplaces like exist around the world.
SarderTV offers provoking, educational and candid interviews so that new entrepreneurs and aspiring business people can learn from them. The database is part of the international Learning Movement created by Russell Sarder to help spread knowledge and inspire a passion in lifelong learning. Operating on the premise that motivated individuals can learn from the experience, the success and the mistakes of others, SarderTV provides a unique opportunity to see and hear influential personalities talk about the subjects that matter to them. Some of the past interviewees have included Ira Neimark, former CEO of Bergdorf Goodman, Susan Davis, CEO of BRAC USA, and Dan Hoffman, President and CEO of M5.
Don't miss this fascinating interview with Michael DeSimone at SarderTV.
SarderTV seeking additional leaders for interviews
SarderTV is also seeking leaders to interview and is targeting leaders from Fortune 500 companies, and exceptional public figures like Bill Clinton, Oprah Winfrey, Jim Collins, Bill Gates, Warren Buffet and many more. According to the National Venture Capital Association, more than 30 percent to $600 million this year has been invested in Web-based education. For investors seeking an opportunity to participate in a multimillion dollar idea SarderTV presents an excellent investment and is actively seeking investors. Several investors have already expressed an interest in this innovative idea. Investors interested in becoming a part of SarderTV are invited to get in touch as well, contact us at russellsarder(at)netcomlearning(dot)com.
About Sarder TV
SarderTV is a learning channel that contains a series of exclusive educational interview videos from top leaders in their industries, as well as motivational videos encouraging our public to succeed in their personal and professional lives, and many more. Russell Sarder, CEO of Sarder TV, has interviewed a series of leaders, who have shared their experiences and how they were able to achieve their success. Some of the names that Sarder has interviewed are: Ira Neimark, former CEO of Bergdorf Goodman; Russ Edelman, co-author of Nice Guys Can Get the Corner Office, Dan Hoffman, and David Hershfield, SVP Online Technology at RedCats.