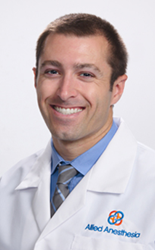 It's incredibly rewarding to see how grateful the patients and their families are to receive world-class health care in an environment where they don't have to worry about the financial burden
Orange, CA (PRWEB) June 30, 2015
Allied Anesthesia physicians are committed to giving back to the community.
Eleven physicians from Allied's Fullerton division volunteered to help provide free outpatient procedures to some of Orange County's neediest residents during the 8th annual Super Surgery Saturday, March 21, at St. Jude Medical Center.
The event was coordinated by AccessOC, which was founded in 2007 to address the medical care needs of Orange County's uninsured population.
AccessOC is just one of a number of community health-care initiatives that Allied physicians participate in.
Recently, three physicians from Allied's Orange division assisted in performing free endoscopies at St. Joseph Hospital of Orange.
"It's incredibly rewarding to see how grateful the patients and their families are to receive world-class health care in an environment where they don't have to worry about the financial burden," said Dr. David English, of Allied's Orange division, who has participated in three community health-care events.
"When Allied asks for volunteers, there are always more volunteers than there are spots available," English said. "That says a lot about Allied, that so many anesthesiologists are willing to give their time for a worthy cause."
Since 2007, AccessOC has mobilized more than 800 volunteers to provide more than 450 uninsured patients with donated surgeries and procedures valued in excess of $6 million. The procedures not only improve patient health but their quality of life as well.
Doctors perform a variety of surgeries including: hernia repair, cataract, biopsies, gallbladder and minor gynecological procedures.
"Some of the patients have lived with a correctable medical problem for years but were never able to get the problem fixed until they came to St. Jude as part of AccessOC," said Dr. Kyle Wehner, of Allied's Fullerton division, who has volunteered for five AccessOC events.
About 30 patients are treated several times a year at five different hospitals after being screened for eligibility by participating community clinics in Orange County where about 18 percent of adults are uninsured.
"Members of Allied strive to provide the highest quality anesthesia care to all members of our community regardless of their financial status," Wehner said. "A sense of community is a quality we look for when hiring new anesthesiologists.  Volunteering and charity work are part of our culture."
About Allied Anesthesia: With over 100 highly qualified physician anesthesiologists on staff, Allied Anesthesia provides adult and pediatric anesthesia services to St. Joseph Hospital of Orange, CHOC Children's Hospital, St. Jude Medical Center in Fullerton, San Antonio Community Hospital in Upland, St. Mary's Hospital in Apple Valley and many other Southern California health care facilities. In 2014, Allied Anesthesia joined with Fullerton Anesthesia Associates and Upland Anesthesia Medical Group to consolidate best practices in more than six hospitals and more than a dozen ambulatory surgery centers. The expanded medical practice is dedicated to offering the highest comprehensive quality of care and the most cost-effective procedures in all facilities they serve. All Allied physician anesthesiologists are board certified in Anesthesiology and they staff and manage the most efficient operating rooms in Southern California. Allied is a member of the California Society of Anesthesiologists, the American Society of Anesthesiologists, and the Anesthesia Quality Institute.
For more information, visit: http://www.alliedanesthesia.com