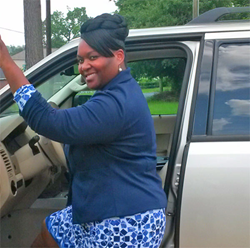 I see a lot of people in our community that look like they need help. It bothers me.
HUNTSVILLE, Texas (PRWEB) July 02, 2015
In her day job as an occupational therapist at Creekside Retirement Community, Natalia Dennis helps people, mostly the elderly of Walker County, recover from medical conditions and regain strength. Now she hopes to help the elderly of the county in a new and different way—by establishing a weekend meal delivery program through her church.
"We're a small congregation with a big heart," says Dennis, of the Greater Gospel Hill Church of God in Christ. She and another member of the church, Cynthia Haynes, had the idea of creating a soup kitchen, but due to the small size of the church building the idea soon proved unworkable.
Undeterred, Dennis' enthusiasm for the mission blossomed into a meal delivery program. She is inspired to go into the community, if the community cannot come to the church at the present time.
"I see a lot of people in our community that look like they need help. It bothers me," says Dennis. Even though programs like Meals on Wheels serve the elderly population in the county, their services do not extend into the weekend.
The Greater Community Food Run of Huntsville, as Dennis is calling the budding program, aims to fill the gap. To date, the women have managed to acquire food handling permits and reach out to a few local restaurants to secure meals on a sponsorship basis.
"Restaurants can commit to whatever level of sponsorship they feel comfortable with," said Dennis. "It can be one meal a week, one meal a year, or any number in between."
The goal is eventually to serve 50 residents one meal each weekend. To help, Dennis says the public can contact the Greater Community Food Run of Huntsville at 832-551-7223, or dennisnatalia(at)gmail(dot)com.
"We welcome help of any kind," said Dennis. "We need people more helping hands and would greatly appreciate the donation of a van."
Restaurants that want to participate are also welcome to contact the women at the church. Donations for the purchase of food are also a way for the public to support the program. Dennis is firmly committed to see it begin to fill empty plates on the weekends.
"Too many people have encouraged me," she said. "This is truly God's plan."
# # #
About Creekside: Creekside is a member of the Methodist Retirement Communities, a leading non-profit, faith-based system of 10 "healthy living" communities spanning across six Texas locations. With a Christian heritage of serving seniors dating back to 1962, MRC has over 50 years of residential senior living and health care experience. Services include independent living, assisted living, certified memory support, skilled nursing, rehab and home health. MRC is listed among LeadingAge/Ziegler top 100 systems in the country. For more information visit http://www.mrcaff.org