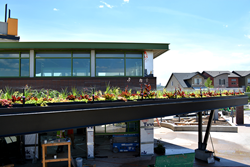 A planted roof is a natural fit in the urban garden environment
DENVER, Colorado (PRWEB) July 01, 2015
Gardening season is in full bloom. Nature-lovers at the Midtown development in downtown Denver however, don't have to wait until spring or summer to get their garden fix. They simply step into the Garden Shed, a community center featuring purposeful gardens including a LiveRoof® system. This month, the rooftop garden celebrates its first anniversary looking as fresh and vibrant as the day it was installed.
This award-winning rooftop garden is designed for year-round performance. Its patented design allows for the natural sharing of water, nutrients, and beneficial organisms across the entire rooftop. It arrives with fully-grown plants, no need to "farm" this roof for years, hoping it will become a green roof. The living roof features both the industry's best engineered soil, as well as plant mixes hand-selected by professional horticulturists for the local climate. This roof provides aesthetic, environmental and social benefits (See Sidebar 1).
The aptly named Garden Shed has already earned kudos for owners Brookfield Residential. The community center, featuring the living roof, is a unique venue for art exhibits, community events and parties as it welcomes all who enter the Midtown community. An outdoor plaza invites lectures, live music and seating within the garden. Homeowners can rent private garden plots or participate in the professionally led AM Farmer program, too.
"A planted roof is a natural fit in the urban garden environment," said Charissa Wagner of Intermountain Roofscape Supply, the grower for the Midtown green roof. "In this setting, the living roof provides both social and aesthetic beauty as well as environmental benefits such as heat island mitigation, storm water management, noise reduction, and even a habitat for local wildlife."
Schultz Industries of Golden, Colorado installed the 860-square-foot rooftop garden. The planted roof features natives and adaptive ornamental grasses and perennials such as rudbeckia, autumn joy sedum, karl foerester grass, yucca and bluestem.
The site is replete with a vegetable garden, ornamental plantings, a fenced, leash-free dog park and access to the 21-mile Clear Creek Bike Path. As part of the planned retail, the Brookside Residential development team recently announced Bruz Beers will be joining the Midtown community in the coming months.
Financial benefits can also be achieved from a vegetative roof including: extension of roof life, energy conservation, enhanced public relations, and conservation of municipal septic systems. (See Sidebar 2).
Photographers/Videographers Welcome – Please contact: Charissa Wagner, liveroofmontana(at)yahoo(dot)com, 406.287.2268
About LiveRoof® Global, LLC
LiveRoof Global, LLC (http://www.liveroof.com) is the horticultural science company that developed the LiveRoof® Hybrid System, whose natural function and natural beauty offer the highest level of green roof performance at the lowest level acquisition-installation-maturation-maintenance costs. Combining the best elements of proven green roof technologies, LiveRoof establishes a seamless vegetative surface rooted in a continuous layer of soil. This design maximizes environmental benefits, energy savings and rooftop aesthetics. Regional growers in its global network adapt LiveRoof plants for local conditions and customize plant selection for every project. The proof is on the roof showcased in LiveRoof projects that stand out as signature elements on commercial, public, university and school buildings throughout the globe.
Media Contact:
Amber Poncé, GRP
Business Development Manager
LiveRoof Global, LLC
616.935.1964
About Intermountain Roofscape Supply
With over 15 years of horticultural experience, Intermountain Roofscape Supply is a family-owned operation nestled in the heart of southwest Montana. Intermountain Roofscape Supply provides clients with the highest quality plants, soil, sod, and LiveRoof® modules on the market today. Intermountain only grows proven plants that can withstand the fluctuating temperature and harsh environment of the rooftop for the mountain states. We guarantee to have the highest quality and services available!
Media Contact:
Charissa Wagner
406.287.2268
liveroofmontana(at)yahoo(dot)com
About Brookfield Residential – Midtown
Brookfield Residential first entered the Denver market in 1997 and since then created four master planned communities – Midtown at Clear Creek, Tallyn's Reach, Brighton Crossing and Solterra. Brookfield Residential received the land stewardship award for Tallyn's Reach from Sustainable Land Development International for community design and land stewardship.
Midtown, located at 1730 W. 67th Ave., is one of the largest infill developments in Denver that uses the latest in building technology, premium materials and contemporary design to respectfully re-imagine traditional urban architecture. Brookfield Residential is bringing fresh new character to a historic neighborhood and is developing the land and building homes in Midtown.
Midtown features parks for a range of activities, an inspired community garden and a limited offering of 1,300 Energy Star® certified homes. Midtown has re-imagined regionally traditional architecture with a distinctly contemporary twist. And the region's most reputable builders are helping to construct this special place.
Contact:
Brookfield Residential Properties
6465 South Greenwood Plaza Blvd., Suite 700
Centennial, Colorado 80111
303.706.9451
http://www.brookfieldrp.com