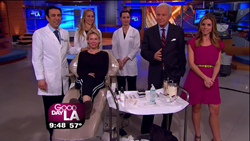 Los Angeles, CA (PRWEB) June 30, 2015
On June 26, 2015, Harper's Bazaar Magazine in an article titled "5 Surprising Reasons You Have Acne," listed five triggers that most people would not expect to cause acne flare-ups. The list includes pillowcases, cell phones, wash cloths, hair care products, and toothpaste. The primary causes of acne are clogged pores and bacteria and each of the named triggers unexpectedly creates a breeding ground for bacteria. (see: goo.gl/v9KHKG)
"I don't think the items on the list will really surprise anyone," says Dr. Simon Ourian, Medical Director of Epione Beverly Hills. "It is helpful, though, to be reminded that these simple, every day practices can have unintentional consequences."
According to the Harper's Bazaar Magazine article, teeth brushing is a combination of product and process that can provide a fertile breeding ground for acne producing bacteria. Toothpaste contains ingredients such as hydrogen peroxide, alcohol, baking soda, and menthol that can cause dryness and irritation, while toothpaste dribbled out onto the face contains bacteria. Hair products that contain sodium lauryl sulfate or sodium laureth sulfate can also dry out the skin. Natural oils, bacteria, dirt and sweat can build up on wash cloths, pillowcases, headphones, cell phones and glassed and it is recommended that these items be cleaned regularly.
"Patients should address their acne immediately and we offer multiple acne treatment modalities at our Beverly Hills clinic," says Dr. Ourian. "In addition, we can treat acne scars with a combination of Coolaser or CoolFrax and dermal filler injections."
Dr. Ourian has been a pioneer in laser technology and non-invasive aesthetic procedures including UltraShape, VelaShape, Restylane, Juvéderm, Radiesse, Sculptra, and CoolSculpting. These treatments are used for the correction or reversal of a variety of conditions such as acne, acne scars, skin discoloration, wrinkles, unwanted fat, stretch marks, varicose veins, cellulite, and others. More information about acne can be found on Epione's website.