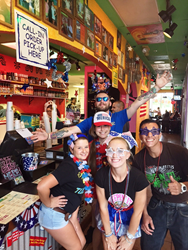 Orlando, FL (PRWEB) June 30, 2015
Tijuana Flats Tex-Mex Raises over $64,000 to Build Homes for Local Veterans
Proceeds Raised Through Sale of Six Different Hot Sauces Bottles and Monetary Donations
Tijuana Flats wrapped up the first Building Houses from Hot Sauce campaign to fund the construction of homes for military veterans. Veterans were selected as recipients of funding through partnerships with Building Homes for Heroes and local chapters of Habitat for Humanity and VA Clinics.
In total, 12,277 hot sauce bottles were sold from May 26th – June 14th. Monetary donations were also accepted at all Tijuana Flats locations and contributed to a grand total of $64,746 raised to support these community organizations across six states. An anonymous donor in South Florida has also agreed to match the funds raised for Building Homes for Heroes.
"It was so rewarding to watch our employees immerse themselves in this campaign and to rally around our local veterans. There is a great need of support of housing for veterans and this is just one way that we can do our part," said Brad Kaemmer, Chief Executive Officer for Tijuana Flats.
In addition to in-store fundraising efforts, Tijuana Flats employees joined forces with these local organizations by volunteering their time to help complete the construction of 17 homes and make them move in ready for the veterans and their families. Employees also got the chance to meet the families of the homes they helped to build.
About Tijuana Flats
Established in 1995 in Winter Park, Fla., Tijuana Flats is a unique, fast-casual Tex-Mex dining experience featuring superior guest service and fresh, made-to-order food. Tijuana Flats has over 110 locations in Florida, Georgia, Indiana, South Carolina, North Carolina, and Virginia.
About the Tijuana Flats Just In Queso Foundation
Tijuana Flats' Just in Queso Foundation provides aid to individuals, communities and organizations in neighborhoods where Tijuana Flats restaurants are located. Since the establishment of the Foundation in 2007, over $3.5 million have been raised to support three core areas: homes, housing and education with a focus on organizations that benefit our children and brave military.
About Building Homes For Heroes
Building Homes for Heroes® is strongly committed to rebuilding lives and supporting the brave men and women who were injured while serving the country during the time of the wars in Iraq or Afghanistan. The organization builds or modifies homes, and gifts them, mortgage-free, to veterans and their families. It's our honor to support the men and women who have loyally and courageously served our country.
Contact: Monique Yeager
Title: VP of Marketing
Phone: 407.619.0965
Email: Monique.yeager(at)tijuanaflats(dot)com