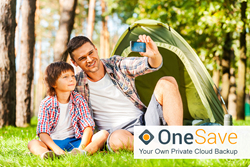 OneSave's cloud backup software was developed entirely with secure storage and personal use in mind.
Warsaw, Poland (PRWEB) July 02, 2015
As both security and data preservation become growing issues in the ever-growing age of computers, OneSave Limited has taken to creating a secure, easy-to-use cloud backup service that focuses on personal use, a category missed by many business-oriented cloud services.
OneSave's cloud backup software was developed entirely with secure storage and personal use in mind. This premium one-click PC backup software aims to make the light-weight app secure and easy to use for anyone, anytime, anywhere. While OneSave can't boast about having the most popular cloud backup service available in a rising cloud industry, protecting files has never been easier for adamant users, beginners, and everyone in between.
Ever since OneSave first released its beta version of the cloud backup software in early 2015, the small company has been working with early adopters to make the software as accessible, light, and user friendly as possible, getting rid of any frivolous extras that have proven to be unnecessary and sticking to developing the very basic essentials. Users worldwide have shown concern for computer software, operating systems, and applications that constantly need to be updated or patched. To make its own cloud backup software worry-free and effortless to properly employ, OneSave's backup application provides additional safety by stripping away all the hassle of updating physical computer storage devices.
OneSave's cloud backup software was and continues to be developed in stride with the latest trends and features in cloud computing and data storage. For those who are a little bit more tech-savvy than the average laptop mortal, OneSave offers a 256-bit SSL Encryption with round-the-clock surveillance so users' files are never left unguarded.
The OneSave cloud backup app has a freemium model where users can get as much as 100MB which will soon be followed with a larger storage package for free, pricing starts at as little as $2.99 per month and can even provide users as much as 1000GB of secure online storage for all files, images, video, and anything else personal PC users might want to keep tucked safely away and yet accessible at any time online.
OneSave's development team has been working closely with the app's beta users to develop more features and an overall better user experience. The app's developers have found that mainstream users have less of a need to back up documents and files, which is a trend in the collaborative cloud software world and more common for small medium-sized enterprises to use. Whereas the standard laptop users seem to have more of a growing need for storing and sharing important personal items such as images, videos, and other personal information.
With that in mind, OneSave executives have expressed their excitement in developing a cloud backup service that will follow its users' needs and developing habits as the entire cloud storage industry itself evolves.