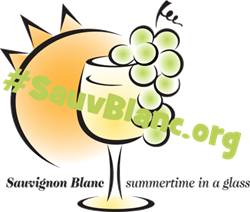 Aubrey Rawlins, ExecDir, Mendocino WineGrowers, Inc, Sauvignon Blanc is one of Mendocino County's strongest varietals. Year after year, more Sauv Blanc gets planted and more remarkable accolades are received from respected magazines and competitions.
Cloverdale, California (PRWEB) June 30, 2015
California's Mendocino County has long been a producer of high quality wine grapes at substantially lower prices per ton than their neighbors to the south. For decades now, top wine producers in Napa and Sonoma have been using Mendocino grapes to complete their bottlings and plump their margins. Recently, however, Mendocino has had a well-deserved surge in recognition with Pinot Noir from Anderson Valley and Sauvignon Blanc from a variety of American Viticultural Areas (AVA) within the county. According to Bryan Dias, Executive Director of (Summertime in a Glass (SIAG), "Mendocino boasts some excellent terroir for Sauvignon Blanc. Its impressive variety of micro-climates and growing conditions allow the region to defy stereotypes and the term 'typical style.' It's a region that must be explored from one bottle of Sauvignon Blanc to the next in order to truly appreciate its considerable diversity."
Expanding on that theme, Aubrey Rawlins, Executive Director, Mendocino WineGrowers Inc (MWI) adds, "Sauvignon Blanc is one of Mendocino County's strongest varietals - it's a long-standing favorite in almost all of our unique growing regions within the county. Year after year, more acres of Sauv Blanc get planted and more wine makers are scooping up those high-quality grapes and getting remarkable accolades from respected magazines and wine competitions."
The Summertime in a Glass campaign will highlight the wines of Mendocino County over the next few days with a regional tasting profile of local Sauvignon Blanc produced by select wineries along with dedicated food parings for these wines. The tasting profile was created by SIAG Resident Master Sommelier, Catherine Fallis, aka the grape goddess, and Resident Chef, Julie Hoskins, Unexpected Chef, crafted the unique pairing recipes.
Handley Cellars Handley Cellars Proprietor and Founding Winemaker, Milla Handley said that, "The 2014 harvest was one of the earliest recorded here in Anderson Valley AVA. We sourced the fruit for the Sauvignon Blanc from the Charles and Meyer Vineyards, both located at the warmer end of the valley, near Boonville. The Charles Vineyard, on the valley floor, is usually among the first we harvest. The wine was entirely fermented and aged in stainless steel. Aromas of gooseberries, citron, and lemon grass are followed on the palate by flavors of passion fruit, Meyer lemon, kiwi, and hints of wet stone. The touch of Semillon we added rounds out the blend, for a dry, crisp and refreshing finish."
According to Zac Robinson, Past President, MWI, the "2014 harvest was early but uneventful. The fact that Sauv Blanc is one of the first grapes to ripen leads to consistent vintages. Late-to-ripen grapes are more prone to surprises like rain, disease, birds, winery logistical snafus, among others."
Deborah Wallo, Founder and Wine Grower, with husband Edward, advised that their Yorkville Cellar's estate grapes "grow on benchlands in the Yorkville Highlands AVA. Their vineyards include gentle south-facing slopes, plateaus and north-facing hills as well as steep terraces which produce voluptuous Sauvignon Blanc fruit. The wine expresses the terroir with zippy citrus from the cooler exposures and keen aromatics from steep thin soils."
Loquacious McFadden Farm Tasting Room Manager, John Cesano, believes that "the 2014 harvest was a great harvest at McFadden Farm, capping off a great vintage from bud break to bottle. Many of Mendocino County's wines are honest expressions of terroir rather than exhibitions of manipulation. The county has the greatest concentration of certified organic and biodynamic growers and wines in America. The 40-degree average nightly temperature plummet brings acid naturally integrated into each grape, yielding dry wines with amazing aromatics, clearly discernible fruit notes, balanced by food friendly natural acidity. Nowhere is this dedication to organic goodness more evident than in the Sauvignon Blanc wines of McFadden Farm, in the Potter Valley where the much heralded Russian River begins."
"Brutocao Cellars Feliz Vineyard has a warmer climate area with red volcanic soils giving us our tropical flavors.", according to Hoss Milone, Brutocao Cellars winemaker. "Then it changes to loamy clay where we get more red grapefruit and floral notes. This all occurs in the same block of vineyard. That's Mendocino County."
Many of these stylistically diverse expressions of Mendocino Sauvignon Blanc are available at retail shops and restaurants around the country and most are available online for shipping direct to consumers. Recommended selections include - Brutocao Cellars 2014 Feliz Vineyard, $14 per bottle; Brutocao's Bliss Family Vineyards, 2014 Estate Bottled, Mendocino, $13; Handley Cellars, 2014 Anderson Valley, $22; McFadden Farms, 2014 Estate Grown, Potter Valley, $16 and Yorkville Cellars, 2014 Randle Hill Vineyard, $19.
These wines are perfect for sipping during the warm summer months and more than well-structured and complex enough to be paired with many different cuisines year-round!
About Summertime in a Glass: Summertime in a Glass (SIAG) is an advocacy and information group that seeks to promote, educate and entertain wine enthusiasts and the industry itself on the world of Sauvignon Blanc. We strive to do so by being informative, yet never too serious. Wine is fun and social. Sauvignon Blanc is known as a great food wine but many styles also make for great "porch wines." This all means that it is meant to be shared and enjoyed, not pontificated!
Follow Summertime in a Glass
Facebook: SummertimeInAGlass,
Twitter: @summerinaglass,
Instagram: SummertimeinaGlass,
Pinterest: SummertimeInAGlass,
LinkedIn: (Group) Summertime in a Glass – Sauvignon Blanc