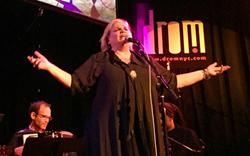 "Raízes" is a true testament to Nicole Borger and Frank London's inspiring talents to see Brazilian music and Judaism melding together so effortlessly.
New York City, NY (PRWEB) July 01, 2015
Soundbrush Records and Roger Davidson celebrated Nicole Borger's U.S. release of "Raízes/Roots" (Soundbrush Records SR1033) in New York City. The recent CD release concert at Drom in East Village showcased Nicole Borger's multifaceted talent as a singer and songwriter. She was accompanied by an assemble of seasoned international musicians: Uri Sharlin (accordion), Isra-Alien (Oren Neiman & Gilad Ben Zvi, guitars), Marivaldo Dos Santos (percussion), and Pablo Aslan (bass and music director).
"Raízes/Roots" is a collection of songs in Brazilian styles and rhythms. The music is deceptively simple at first, but for those familiar with Jewish music, they soon discover the songs' depth and originality. Through very carefully chosen repertoire and arrangements, the singer and her producer, Frank London, transform traditional and contemporary Jewish songs such as "Yidl Mitn Fidl," "Abi Gezunt," "Bulbes" or "S'Iz Nito Kein Nekhtn" into Brazilian bossa novas, baiaos and frevos. Her Portuguese interpretation of the original Yiddish lyrics reimagines and reaffirms the songs' spirituality and stories. "I'm part Brazilian and part American. I am Jewish and cosmopolitan," says Nicole Borger. "In the collection, I express my story through a fusion of Brazilian and Jewish music, inspired and rooted by the rich, beautiful heritage they represent in me."
"Raízes/Roots" joins a series of cross cultural projects Soundbrush Records' founder and artist, Roger Davidson, has made a life-long commitment to promote. The project converged Davidson's love of Brazilian and Jewish music and the opportunity to collaborate with Nicole Borger and Frank London. '"Raízes" is a true testament to Nicole Borger and Frank London's inspiring talents to see Brazilian music and Judaism melding together so effortlessly," said Roger Davidson. "With the many ways the project personally connects me, I'm thrilled that Soundbrush Records is supporting it."
About Nicole Borger
Born in São Paulo, Brazil, of an American father and a Portuguese/German mother, Nicole Borger is a multifaceted singer and songwriter. Her musical career includes major performances such as Shorashim, a 2003 concert celebration of Jewish Music; appearances at the WOMEX festival in Seville, Spain; the Jazz and Blues Festival of Guaramiranga in Ceará, Brazil and shows in Europe and New York in 2009. Her other recorded CDs include: "Amar – Um encontro com Florbela Espanca," "Singra," and "Marias."
About Soundbrush Records
Soundbrush Records was founded in 2003 by pianist and composer, Roger Davidson, to promote intercultural musical collaborations, with the belief that artistic collaboration between different cultures illuminates humanity's inter-connection. It specializes in creating cross-cultural projects and producing jazz and world music especially Tango, Brazilian Music, Klezmer, and music from Cuba and the Caribbean. Soundbrush Records has forged a unique place among contemporary record labels to showcase original work of critically acclaimed artists from all corners of the world, including Pablo Aslan, Nicole Borger, David Finck, Carol Fredette, and Marco Granados, as well as Grammy winners, Frank London, Fernando Otero and Raul Jaurena.