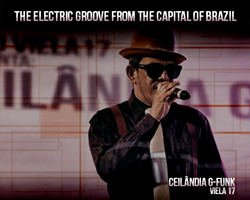 Miami, FL (PRWEB) June 30, 2015
Coast 2 Coast Mixtapes presents the release of the "20 de 40" Music Video by Viela 17. This visual project is currently available to view on the Coast 2 Coast Mixtapes website.
"20 de 40" is a special project from Viela 17, commemorating the 20 year career at 40 years old from MC and Band Leader Japao.
The "Viela 17" group was born in 2000 through the rapper, musician and founder of the group - Japão, a fact that helped remarkable and strong character on stage and music scene. Group talent part comes from the musical openness and rap paradigm shift - is the musical democracy that unites national and international names in the influences of the group.
The Federal Capital is home to big names in the national rap. "Viela 17", who started the car3er 15 years ago, and since their first album, !The Game (2001)" , have been increasing their retinue of admirers is surely one of them. Since 2000, the group operates nationally and is the mobilization of rap in the center of Brazil.
The fight for a place in the sun don't let "Viela 17" forget your periphery roots: CEILÂNDIA his crib! Japão seeks to maintain the group features and rereading the rap of the 1990s, samples, beats, programming and timbres are always thought to remain faithful to the original segment. "Viela 17" is a term that refers to the group leader of the community -Sector Expansion "O - Ceilândia / DF".
Stay up to date with Viela 17 on Twitter at: @viela17
About Coast 2 Coast Mixtapes
Coast 2 Coast Mixtapes are the most widely distributed mixtapes in the world, with over 100 million downloads/plays generated by over 200 volumes officially hosted by major artists. Coast 2 Coast has a solid reach in the new music industry with a digital magazine, DJ coalition, industry tips blog, yearly convention, and more. Coast 2 Coast Mixtapes represents a unique opportunity for artists of all urban genres, from major to indie. For more information, visit http://www.coast2coastmixtapes.com.