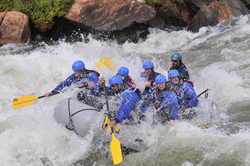 It has been a historic rafting season on the Arkansas River, but we are glad to finally have the Numbers section back open to commercial use
Buena Vista, Colo. (PRWEB) June 30, 2015
River Runners, a Colorado whitewater rafting company with locations at the Royal Gorge and at Browns Canyon, announced it is now booking advanced whitewater rafting trips on the Numbers section of the Arkansas River through September 7, 2015.
The Numbers has not been run commercially this summer since the first week of June, when historic flows put it under high water advisement by the Arkansas Headwaters Recreation Area (AHRA), according to Travis Hochard, general manager, River Runners.
"It has been a historic rafting season on the Arkansas River, but we are glad to finally have the Numbers section back open to commercial use," Hochard said. "This is the most continuous whitewater in Colorado and is a big draw for thrill-seekers."
The Arkansas River peaked in the Numbers at 4,030 cubic feet per second (cfs) on June 18, 2015, which is an all-time high for that date based on 20 years of record, according to the United States Geological Survey (USGS).
"The commercial cut-off is 2,400 cfs, so we were well over that for a couple of weeks," Hochard said. "It is fun for the guides, but not always great for business when the water is that high."
Flows on the Arkansas River are returning to normal, which means the Colorado rafting industry is getting back to business as usual, according to Jon Treleani, head boatman, River Runners.
"The high water is a lot of fun, but it really changed operations and limited who we could get on the river," Treleani said. "Now that flows are returning to normal it opens business back up to a larger demographic of people wanting to go rafting."
River Runners operates out of two locations on the Arkansas River in Colorado. Choose from beginner, intermediate and advanced whitewater on half-day, full-day and overnight rafting trips. Call 800-723-8987 or book online at whitewater.net.