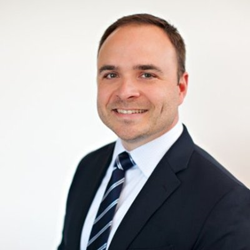 It's because of my SBDC consultant that I learned about LivePlan, and I loved the app so much that I reached out to the makers of the product to let them know I wanted to help spread the word to other small business advisors, consultants and instructors.
Eugene, Ore. (PRWEB) June 30, 2015
The world's leader in business planning, strategic forecasting for small business, and small business management software, Palo Alto Software, has announced the hire of entrepreneur Josh Fegles to lead the company's government and academic relationships.
Fegles will be sharing LivePlan, a great critical thinking tool, with global academic and government organizations to help them increase their relevance among their small business clients and students. LivePlan helps students learn about how to start a business, and helps small business owners plan and manage their business better. Josh will bring LivePlan to SBDCs (Small Business Development Centers), SCORE offices, Women's Business Centers, Veteran's Business Outreach Centers, Chambers of Commerce, economic development organizations, accelerator and incubator programs, and academic institutions (high schools and higher education, including online universities).
"Josh is the perfect person to lead our relationships with SBDCs, SCORE offices and colleges and universities for many reasons. Most importantly, he's been a long time client of the SBDC in Portland, Oregon," stated Palo Alto Software CEO, Sabrina Parsons. "He's also used LivePlan to nearly double his sales for his successful gluten-free food manufacturing company called Jude's Foods. His experience with our product and his passion for entrepreneurship enables him to show the value of LivePlan among our government and academic channel partners."
"I know first-hand the benefit of working with an SBDC office to help me launch and grow my own startup. I couldn't have done it without the help of my SBDC consultant," commented Fegles. "It's because of my SBDC consultant that I learned about LivePlan, and I loved the app so much that I reached out to the makers of the product to let them know I wanted to help spread the word to other small business advisors, consultants and instructors."
Any government or academic organization seeking to use an innovative cloud-based lean business pitching and planning, industry benchmarking, and financial management dashboard application can contact Josh Fegles directly to learn more: joshf(at)paloalto(dot)com 541-284-1221