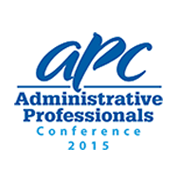 while we're huge proponents of the one-of-a-kind energy you receive only at live conferences, we're packing even more training punch by extending the learning experience with our new bonus online training courses
Portland, ME (PRWEB) July 01, 2015
The Administrative Professionals Conference (APC) and Executive Assistants' Summit today announced new features and program highlights for its annual conference taking place this October at the Gaylord Texan Resort & Convention Center in Grapevine , Texas. Produced by the American Society of Administrative Professionals (ASAP), the APC provides training, resources, inspiration, and career development strategies to hundreds of administrative professionals and executive assistants annually.
New initiatives for the 2015 program, consisting of 4 days' worth of 75+ training sessions, workshops, keynotes, and certifications, include a complimentary online training bundle of six online courses from the ASAP Training Center. Training topics include: critical thinking; new manager; productivity; and communication skills. Additionally for the first time, conference attendees will also have access to an on-site APC Tech Desk, sponsored by Skype for Business. Tech Desk trainers will be available to offer support and answer attendee tech questions.
"ASAP & APC understand that for many admins, the APC is their ONE business and career development outing for the whole year – company executives and training managers have realized that now, more than ever, their key admins require APC's high-level training, and we've worked hard to make it worthwhile, with more value, relevant topics, inspiration, and fun than ever – that's why we're constantly switching up the program and incorporating new initiatives," said Judy Geller, Executive Director of ASAP and APC Conference Chair. "And while we're huge proponents of the one-of-a-kind energy you receive only at live conferences, we're packing even more training punch by extending the learning experience with our new bonus online training courses. Professionals of any level, from admin to CEO, should really be seeking professional improvement year-round.
Also new to this year's program is the 2015 WOW Panel, "Under Fire: How Resilience, Quick Thinking (and a Little Humor) Can Save the Day," where four Executive Assistants will share "war stories" about work-related difficulties they have faced and techniques they have employed to solve them. EAs from South by Southwest, Shutterfly, Inc., Spanx, and Cisco Systems will participate in the panel.
Available for upgrade to attendees is Microsoft Office Specialist (MOS) Certification testing at discounted rates, courtesy of Pearson VUE. Packages include one, two, or three certification bundles. Microsoft Word, Powerpoint, Excel, Outlook, or Access certification options are available.
The above program features and more are now downloadable via digital flipbook on the APC website.
To register for the APC or to obtain additional information, call 1-800-873-1272 or email info@apcevent.com.
Sponsorship and Exhibition opportunities are available. For more information, contact: Patrice Hampson, National Sales Manager at: 207.842.5456 or email Phampson(at)divcom(dot)com
About the Administrative Professionals Conference (APC)
The APC is produced by the American Society of Administrative Professionals (ASAP), the largest free association and resource center for administrative professionals. Celebrating its 10th year anniversary in 2015, ASAP has grown its membership to 55,000 admins from around the world, and gives its members access to over 450 online training courses, live and on-demand webinars, a monthly newsletter, articles and features geared for admins, and a prestigious admin certificate program. ASAP is a business unit within Diversified Communications, a global organization operating on four continents and a major independent producer of events and media worldwide. For more information, visit http://www.asaporg.com.