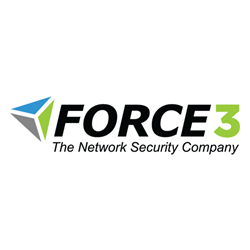 Force 3 is very proud to receive the CIO-CS contract award.
Crofton, Md. (PRWEB) July 02, 2015
Force 3, The Network Security Company, today announced that it has received a contract award for the National Institute of Health (NIH) Chief Information Officer Commodities and Solutions (CIO-CS) contract vehicle. Through this contract, Force 3 will provide IT commodities and services to support the Federal Enterprise Architecture, the Department of Defense Enterprise Architecture and the Federal Health Architecture.
The CIO-CS contract is a 5-year multiple award indefinite delivery, indefinite quantity (IDIQ) government wide acquisition contract (GWAC) with a $20 billion contract ceiling. It covers everything IT, including services such as deployment and installation, maintenance and training, enterprise licenses and extended warranties, cloud, mobility, collaboration tools, web and video-conferencing, cyber security, virtualization and health and biomedical IT.
"Force 3 is very proud to receive this contract award," said Mike Greaney, CEO of Force 3. "This contract will enable us to design, deploy, support and maintain cost-effective, secure solutions to meet the mission-critical needs of the nation's most prominent Federal agencies."
CIO-CS became effective May 1, 2015, as a follow-on contract to ECS III, which expired May 9, 2015.
About Force 3
Force 3 is the network security company, providing infrastructure services to design, deploy, support and maintain their clients' technology needs. Their team of passionate experts includes industry leading security professionals, with the highest levels of certifications, proficiencies and experience. Force 3 boasts the only dedicated support service offering in the Federal market, ensuring optimal uptime to keep your infrastructure running efficiently. Whether an enterprise network, mobility, collaboration, data center or next-generation solution – Force 3's highly trained engineers and strategic partnerships deliver secure solutions for agencies who demand value and reliability.