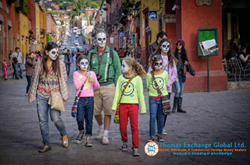 London, UK (PRWEB UK) 8 July 2015
A new report by the Office for National Statistics has surfaced revealing a surge in the number of outbound visits by UK residents. Published May 21, the Overseas Travel and Tourism report stated that 11.5M visits abroad were made by UK residents in the three months leading up to March 2015–that's 8% higher than during the same time last year. Thomas Exchange Global has felt the impact of the recent surge through the increased demand in travel money at its London-based branch locations, offering residents the most competitive rates to exchange the British pound.
Senior Manager of Thomas Exchange Global Trevor Samuel stated, "The UK economy is recovering fast, and in turn the strength of the British Pound Sterling has made holidaying overseas more affordable compared to years prior. Our branches have experienced significantly high sales of our most popular travel currencies, including the euro and U.S. dollar. However, even the demand for more exotic currencies offered have been on the rise."
The London-based foreign currency specialist responded to the rising trend in demand for travel money by expanding its branch network and enhancing online facilities. Three new branch locations have been added over the past 6 months with another two branches anticipated to open during the next couple of months. Thomas Exchange Global offers over 120 different types of foreign bank notes–most of which are available at each branch location with no waiting time and without prior booking, unlike the services of many of its competitors.
"Maintaining an expansive and diverse range of currencies with a 0% commission structure and at superior exchange rates have been the secret to our success. Various fees added to payment with cards compounded by economic instability in places such as Greece have resulted in a shift from paying with prepaid and bank cards to using cash this season," commented Trevor.
The report also states that UK travellers spent more than £ 6.8 billion on the reported visits abroad during Q1. Thomas Exchange Global supplies the crowds of British tourists preparing for international travel with the best overall option for obtaining travel money in response to the surge in tourist-based expenditures. In order to keep the cost of holiday at bay, in turn giving even more people the opportunity to visit foreign destinations on a budget, Thomas Exchange Global recommends people use cash rather than card while abroad, and to find the best exchange rate while still in-country prior to departing for their trip.
"We firmly believe in fair pricing and as such, all exchange rates are displayed on our website and updated in real-time so people know exactly what they're getting. Furthermore, we don't charge any commission for the purchase and selling of travel money, and even offer a next-day guaranteed delivery for orders placed online at the special rates posted to 'Travel Money by Post,'" said Trevor. He concluded, "From our observations of other rates offered out of London, we're currently providing the most competitive exchange rates in the market."
About Thomas Exchange Global
As dedicated foreign exchange specialists, Thomas Exchange Global has the professional expertise, in depth market knowledge, technological infrastructure and commitment to provide an unprecedented level of service that sets the standard in the foreign exchange industry. They are specialists in all areas of foreign exchange. They provide commission free currency as well as travellers cheques.
Thomas Exchange Global also offers International Money Transfer Service where funds can be remitted to overseas bank accounts within one to two days. With commission free service for transfers over £10,000 backed by competitive exchange rates, customers are assured of a better deal and a substantial saving compared to banks and money brokers. Thomas Exchange Global branches are located at Strand, Victoria Street, Canary Wharf, Liverpool Street, Hammersmith, Cannon Street, Wormwood Street and Richmond.