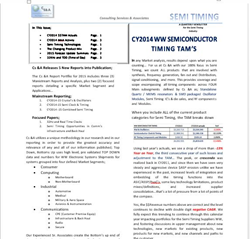 SEMI TIMING; a Newsletter specific to Semiconductor Timing... The first of its kind, and a quarterly publication, Cs &A provides fast access to needed data and information
(PRWEB) July 02, 2015
Cs &A, the leader in Semi Timing Industry information and the "Go To Resource" for Semiconductor Timing announced the release and publication of their newest offering to complement the existing line of Market Reporting and Analysis: SEMI TIMING, a Quarterly based publication and Newsletter.
Designed in support of coverage for the full spectrum of Semi Timing solutions from simple standalone Quartz to include MEMS resonators, Oscillators, Semi Timing IC's, Die Sales into Frequency Control Products (FCP), and RF Timing Components and modules, this first of its kind Newsletter is the ideal tool for keeping your fingers on the pulse of this dynamic and challenging business.
Mark Sherwood, CEO of Cs &A LLC said today;" ISSUE number one (1) is ready to go now, and we want our clients to know that we are already working to expand the scope of the coverage as we progress with the industry's ONLY quarterly updates for Semi Timing.. We hope to see this newsletter become the mainstay for Semi Timing Marketing and Management Professionals Plus all of the System level OEM's, ODM's, and CM's who digest Semi Timing in high volume. It should be considered as required reading in this business..."
This Newsletter is an excellent and cost effective way to stay in touch with high level information that is as dynamic as our industry itself! The Newsletter was specifically designed to give the reader a quick view method to glean the high level information and surrounding / supporting detail quickly and concisely.
Key Industry news and events, trending and key influencing happenings are all included along with updates and YTD numbers for;
Semi Timing TAM's (Volumes, weighted device $ASP's, and organized by Semi Timing Defined Product Categories for each of the three defined and accepted Main Semi Timing $Revenue Segments;)

Xtal and Oscillators
Semiconductor Clock and Timing
- Includes Die Sales into FCP

RF Timing Components and Modules
Semiconductor Timing has proved to be one of the most dynamic and challenging segments within all of Worldwide Semiconductors with some of the most unique Analog-Mixed Signal technology around today.
CY2014 showed marked and aggressive levels of device $ASP erosion evident across all defined product categories, and across all market segments that has seen levels never before experienced in our business. Challenged on all sides by issues like; increased levels of integration and embedding the Timing Functions into the ASIC/ASSP/PSoC, currency conversion, levels of channel inventories with their own set of issues to include; price protection and stock rotation, MSL, packaging and more, all combine to make the Newsletter more than informative; it can be used as a necessary tool to leverage key and timely data and information (the Numbers too) to help as your business progresses during the course of the calendar year...
With such dynamic trending, one needs a tool updated with enough frequency to provide a good view of what is happening, why, how, and where... Here is where the Newsletter is more than just full of interesting news and full of factoids, but functioning as a tool delivering ACTIONABLE news and happenings. As an active player in Semi Timing, Cs &A has a unique perspective and ability to provide accurate and relevant detail as a player and not just an observer...
Sherwood also said; "Up until now, one had to purchase a full and complete mainstream market report (typically from Cs &A) with high $$Cost and a lot of information (hundreds of pages) and data to sort through. These Mainstream Reports are updated annually or 2x max during the year, and lack the real time impact of a quarterly piece... This Newsletter, while totally standalone the Newsletter should be considered as an enhancement to our Mainstream and focused Market Reports, and adds significantly to our offering...
Things happen fast in our business and managers need a way to provide a fast method to get at and extract the needed data. The Newsletter reflects a view of the entire Industry and ALL Markets served WW, and then takes the key driving issues as they develop almost in real time, and places them right in front of the reader with Headlines and Topic Lines that draw your attention to the issue – all at a high level with just enough detail to provide an answer plus some background data and information… "
Cs & A has become the Go To Resource for Semi Timing in recent years, and remains the premier provider of information relative to Semiconductor Timing. Made up of industry veterans with extensive experience and expertise in Semi Timing, Cs &A has the connections along with the knowledge base so as to be able to provide this kind of product into the market. As such it makes sense to see this Newsletter come from them, they have the power of knowing...
The newsletter carries an upfront low priced fee of USD$750.00 for a full annual subscription with Four (4) deliverable issues during the year at the end of each calendar based Quarter. In addition, Cs &A provides up to 2 hours of Newsletter related consulting so we can respond to any inquiry you may have once the newsletter is in your hands and posted on your marketing server.