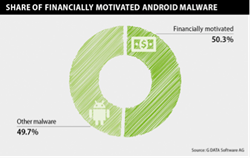 We are expecting a significant increase in financially motivated malware for the Android operating system this year.
Atlanta, GA (PRWEB) July 01, 2015
Mobile banking and online shopping are booming. Fifty percent of U.S. consumers use a smartphone or tablet for their banking transactions, and 78 percent of Internet users make purchases online. This is a trend that has also attracted the attention of cyber criminals recognizing the exploitation possibilities such as forced subscriptions via premium SMS or calls, extortion via ransomware, and remote control of money transfers.
Today, G DATA is releasing their Q1 2015 Mobile Malware Report, which summarises the most important cyber crime trends and forecasts for the current year. This analysis carried out by G DATA security experts discovered over 440,000 new Android malware strains in the first quarter of 2015, which means that a new mobile malware strain for Android is discovered every 18 seconds. Additionally, the report has revealed that over 50 percent of Android malware has a direct financial motivation.
"The use of smartphones and tablets for online banking is increasing rapidly. With its dominant market position, the Android operating system in particular is coming to the attention of cyber criminals. Hence it is no surprise that attackers are developing and distributing financial malware such as banking Trojans especially for this platform," says Christian Geschkat, G DATA Mobile Solutions Product Manager. "As such, we are expecting a significant increase in financially motivated malware for the Android operating system this year."
Increase in financially motivated Android malware
Mobile banking is seeing rapid growth. This also has an effect on Android malware. G DATA security experts have determined that at least 50 percent of the malware currently being distributed has a financially motivated origin and includes banking Trojans and SMS Trojans.
Increase in mobile malware in the first quarter of 2015
G DATA security experts identified 440,267 new Android malware samples in the first quarter of 2015. The number of new Android malware instances increased by 6.4 percent compared to the fourth quarter of 2014 (413,871). Compared to the first quarter of 2014 (363,153), the increase is even larger: 21 percent.
Further forecasts:

The number of new malware types has increased significantly in 2015: G DATA security experts expect a rapid increase in the number of new Android malware instances in 2015. Because of the constantly high distribution figures for the operating system, cyber criminals are determined to get malware into circulation here.
Internet of Things – invasion via the mobile device: Intelligent devices are prone to attack. Whether these are smart cars, heating equipment or routers, researchers are coming across more and more security deficiencies. In many cases, smartphones and tablets are being used to control intelligent devices. The G DATA analysts expect that these mobile devices will become a major attack vector.
The G DATA Mobile Malware Report is available online at https://secure.gd/dl-us-mmwr201501
About G DATA
IT security was invented in Germany: G DATA Software AG is the antivirus pioneer. It was more than 28 years ago that the company, founded in Bochum in 1985, developed the first program to combat computer viruses. These days, G DATA is one of the world's leading providers of IT security solutions.
Test results prove that IT security "Made in Germany" offers Internet users the best possible protection. Stiftung Warentest has been testing Internet security products since 2005. In all seven tests performed between 2005 and 2014, G DATA achieved the best virus detection rate. In comparative tests by AV-TEST, G DATA regularly demonstrates the best results in the detection of computer malware. Internationally, G DATA INTERNET SECURITY has also been awarded best Internet security package by independent consumer magazines – in countries such as Australia, Austria, Belgium, France, Italy, the Netherlands, Spain and the USA.
The product range comprises security solutions for end customers as well as medium to large-sized enterprises. G DATA security solutions are available in more than 90 countries worldwide.
For more information about the company and G DATA security solutions, see http://www.gdata-software.com.