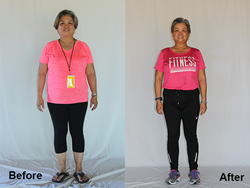 What we do and what we teach our clients is all done a safe, judgment-free environment. The only thing our guests have to worry about when they are here is taking care of—them!
Ivins, Utah (PRWEB) July 02, 2015
A recent NBC News story stated that more than two thirds of Americans are overweight or obese. The article also noted that those who are obese are at a higher risk of heart disease, diabetes and high blood pressure.
An additional article was released by Salt Lake City, Utah's KSL News that announced the recent study by the American Medical Association which found almost 40 percent of men and almost 30 percent of women were obese or overweight.
In response to this recent news topic, Owner and Managing Partner of Movara Fitness Resort, Cameron Kelsch, commented saying this is exactly the type of problem that Movara Fitness Resort is addressing every day. Movara Fitness Resort has a structured fitness program that includes hiking, fitness classes, nutritional meals throughout the day and an educational lecture series.
"Our clients are constantly experiencing weight loss and improvements in their health," said Kelsch "we teach people to consider different ways to exercise like hiking or even just walking. We also teach them that nutritional food is essential to their health and can actually taste good too."
According to the article by KSL News, the easiest way to overcome obesity is to make a lifestyle change that involves a healthier diet and exercise. When asked about the results their clients had been experiencing, Movara's Registered Dietitian Emily Fonnesbeck, RD, CD stated that while complications like diabetes and high blood pressure are often times found in people who are overweight or obese, good health comes from healthy behaviors.
"Health is a product of healthy behaviors and not dependent on weight. Many individuals find health outside of so-called "normal" parameter of weight, body fat percentage and BMI. What Movara does is help guests implement lasting healthy behaviors. Weight loss can be a by-product, and at times necessary for some individuals, of unhealthy behaviors," said Fonnesbeck.
NBC News also mentioned that the likeliness of obese or overweight adults feeling poorly about their self-worth is strongly correlated. The emotional aspect of what some of the guests at Movara have endured while facing a variety of health complications is something that Movara Fitness Resort is very aware of. Attention towards creating a supportive and non-judgmental environment for each client is top priority.
"What we do and what we teach our clients is all done in a safe, judgment-free environment. The only thing our guests have to worry about when they are here is taking care of—them! I can't help but see major correlations between the healthy, supportive environment and what our program teaches with the great results our guests are seeing," said Kelsch.
A high number of guests at Movara are experiencing weight loss and health improvements. Since the start of 2015, 93 percent of Movara's guests have experienced weight loss and 94 percent were happy or satisfied with the results of their final body analysis.
Guests like Juliet Tin-Maung and Sharon Wheatley were able to regain control of their diabetes after participating in the program at Movara. One week after Juliet Tin-Maung checked in at Movara Fitness Resort, her insulin dose of 120 units a day was cut in half, and four weeks later she was no longer taking insulin at all. She also lost 40 pounds in six weeks. According to Tin-Maung, her results were nothing short of astonishing.
"On the first day, my insulin levels were already dropping-naturally! I wasn't able to take as much insulin, my body was producing it on its own. I actually had to make sure I wasn't taking so much insulin that my blood sugars were too low," said Tin-Maung.
Wheatley lost 32 pounds in eight weeks and her A1C levels dropped from 6.4 to 4.2. Wheatley was also struggling with hypertension and was on the verge of being prescribed medication, which is no longer an issue.
Two additional guests reported to have been able to quit taking medication for their Type 2 Diabetes altogether after participating in the fitness program at Movara.
"While most guests come to Movara seeking weight loss," says Fonnesbeck, "I think they find that health is much bigger than what the scale says, at least that's my hope!" said Fonnesbeck.
For more information about Movara Fitness Resort and their structured fitness program, simply visit http://www.movara.com, call (888) 870-2639 or email info(at)movara(dot)com.
Resources:
http://www.nbcnews.com/health/diet-fitness/were-getting-even-fatter-survey-finds-n365276
http://www.ksl.com/?sid=35237590&nid=