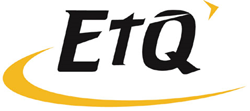 EtQ played a key role in 2014 by working closely with Celestica on the continuous improvement of our world-class quality management solution that enables Celestica to deliver the highest levels of quality to our customers
Farmingdale, NY (PRWEB) July 01, 2015
EtQ today announced it has been awarded a 2014 Total Cost of Ownership (TCOOTM) Supplier Award from Celestica, a global leader in the delivery of end-to-end product lifecycle solutions. Celestica's awards program recognizes suppliers that support Celestica's TCOOTM strategy and demonstrate excellence in quality, delivery, technology, service, pricing and flexibility.
"EtQ is proud to be recognized by Celestica," said Glenn McCarty, Chief Executive Officer, EtQ. "EtQ strives to assist organizations in delivering products that are compliant, innovative and of the highest possible quality. We are pleased to have been given the opportunity to contribute to Celestica's supply chain goals."
This marks the ninth year of Celestica's TCOOTM Supplier Awards program, which evaluates and recognizes the top performers in Celestica's global network of over 4,000 suppliers. Celestica's TCOOTM system is focused on evaluating supplier performance by measuring the total cost to produce, deliver and support products and services beyond the supplier invoice price. As such, it considers the following supplier attributes: quality, delivery, technology, service, pricing and flexibility.
"Congratulations to EtQ for being recognized with the Best IT Partner Award," said Paul Blom, Chief Procurement Officer, Celestica. "EtQ played a key role in 2014 by working closely with Celestica on the continuous improvement of our world-class quality management solution that enables Celestica to deliver the highest levels of quality to our customers."
About EtQ
EtQ is the leading Quality, EHS and Operational Risk and Compliance management software provider for identifying, mitigating and preventing high-risk events through integration, automation and collaboration. Founded in 1992, EtQ has always had a unique knowledge of Quality, EHS and Operational Risk and Compliance processes, and strives to make overall quality operations and management systems better for businesses. EtQ is headquartered in Farmingdale, N.Y., with main offices located in the U.S. and Europe. EtQ has been providing software solutions to a variety of markets for more than 20 years. For more information, please visit http://www.etq.com or contact us at 800.354.4476.