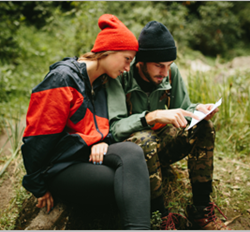 It's important for people to be proud of our national treasures and to protect them for future generations. I want to share that pride with everyone.
Boulder, CO (PRWEB) July 01, 2015
Backpacker Magazine is launching the National Parks Centennial Tour this summer to raise awareness for America's greatest treasure, our national parks. The tour, part of a larger initiative with Subaru and the National Parks Service to secure the future beauty of our national parks, will focus on the adventures of two young storytellers, Aidan Lynn-Klimenko and Madison Perrins. The team will explore over 30 national parks throughout the United States and share their experiences and tips for America's best idea!
Aidan and Madison, also known as the Vanajeros, were the obvious choice in a pool of over 9,000 applicants for the tour. With an impressive ability to write, photograph and create videos that captivate audiences, they are true storytellers.
In a 2015 Outback provided by Subaru of America, Inc., the team will tour Yosemite, Grand Teton, Denali and other national parks over the next 10 months, sharing stories of their adventures and those they meet along the way. In addition to being featured consistently in Backpacker Magazine and online, content the team collects will be featured in Climbing Magazine, National Park Trips Media, and on Google's app, Field Trips.
"My hope is for everyone to visit the national parks and to see these amazing places for themselves," said Perrins. "It's important for people to be proud of our national treasures and to protect them for future generations. I want to share that pride with everyone."
Backpacker launched the National Parks Centennial Tour last week in Rocky Mountain National Park and is currently exploring Voyageurs National Park located in International Falls, MN. The Vanajeros plan to visit a different national park every week with public appearances at retail shops in between stops.
"Aidan and Madison are passionate adventurers and artists," said Backpacker Event Marketing Manager Caitlyn Pepper. "We are eager to launch the tour, tell their stories and motivate people to plan their next trip to a national park."
For more information, visit http://www.backpacker.com/nps100, http://www.subaru.com/environment, http://www.nationalparks.org, and follow #nps100 via social media for up-to-date news and event schedules.
About Active Interest Media, Inc.
One of the world's largest enthusiast media companies, Active Interest Media (aimmedia.com) publishes leading consumer magazines such as Yoga Journal, Backpacker, SKI, Skiing, Vegetarian Times, Yachts International, Sail, Power & Motoryacht, Black Belt, American Cowboy, Spin to Win Rodeo, Practical Horseman, Dressage Today, Log Home Living, Old House Journal, Country's Best Cabins, and more. The company's five divisions—the Equine Network, Home Group, Healthy Living Group, Marine Group, and Outdoor Group—reach more than 40 million people in 85 countries. AIM also operate websites, B2B businesses, a state-of-the-art video unit, and Warren Miller Entertainment, the most successful outdoor film production company in history. Each of AIM's divisions also runs consumer and trade events, including the world's largest boat shows and yoga conferences. Active Interest Media's customers are smart, engaged, and loyal, and they look to our brands for trustworthy information and services that will inspire and enable them to enjoy their passions.