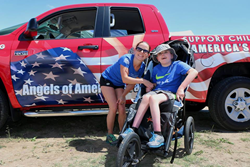 "Bradley loved to run, and on his birthday, I could not think of a better way to honor his legacy than to host a nationwide virtual 5k in his memory."
(Colorado Springs, Colorado) - (PRWEB) July 01, 2015
Lisa Keys, the widow of U.S. Army Master Sergeant Bradley Keys, will be hosting a nationwide virtual 5K on August 15-16th (MSG Keys' birthday) in memory of her late husband and all of America's fallen military and first responders. MSG Bradley Keys, a highly decorated soldier and recipient of the Bronze Star Medal, died during a Special Forces training exercise in December of 2012. The 'Legacy 5K' is a virtual event in which people from around the country can register through a simple donation on the event's Crowdrise page, and independently participate by running, walking, or riding within their community in memory of MSG Keys and all of America's heroes. Funds raised against the event's $25,000 goal will go to Angels of America's Fallen (AOAF), a rising non-profit that provides funding for developmental activities for the children of America's fallen military and first responders.
"Bradley loved to run, and on his birthday, I could not think of a better way to honor his legacy than to host a nationwide virtual 5k in his memory," said the event organizer, Lisa Keys. "After his death, my son Ethan and I adopted Bradley's passion for running as a way to continue connecting with our fallen hero. From there, it grew into a great way to honor him—and now, through this virtual event, a great way to give back to an organization that means so much to us."
The couple's son Ethan, now 15 years old, has cerebral palsy and accompanies his mom on runs in an Adaptive Star stroller that was provided by Angels of America's Fallen after Ethan's original chair was damaged beyond repair during a family move.
"Our passion at Angels of America's Fallen is focused on giving back to and honoring families that have given so much to this great nation," stated Joe Lewis, the Founder and CEO of Angels of America's Fallen. "It truly humbled us when the mother of a child that we support approached us with the desire to reverse the roles of giving back to our organization through a virtual 5K."
Participants who donate $30 or more during their registration will be awarded a commemorative dog tag with the name of a child that Angels of America's Fallen supports.
Since its inception, the 'Legacy Virtual 5K' has gone viral among other parents of children that AOAF supports. One mother, Jennifer Carazo, has already created a sub-campaign under the event's main Crowdrise page to help expand the fundraising effort and to honor her late husband, Lieutenant Col. Mario Carazo, who was killed in action when his Cobra Attack Helicopter was shot down in Afghanistan.
"This is truly a remarkable thing to witness," noted Lewis, "We are seeing spouses who live in different parts of the country come together to both honor their fallen hero and raise funds for an organization that supports their children—this truly redefines giving back!"
Interested parties are encouraged to register with their contributions at http://www.crowdrise.com/VirtualLegacyRun.
About Master Sergeant Bradley Keys
MSG Bradley Keys was a soldier, father, and loving husband. He proudly served his country for almost six years with multiple deployments supporting the GWOT with the 3rd Battalion, 10th Special Forces Group (Airborne) He also worked with U.S. Army Special Forces Command. MSG Keys is a highly awarded and decorated soldier, receiving (among other awards and honors) the Bronze Star Medal, the Army Commendation Medal, the Valorous Service Medal, and the Meritorious Service Medal. MSG Keys died in December of 2012 during a specialized training exercise.
About Angels of America's Fallen
Founded in 2012, Angels of America's Fallen (AOAF) is a 501(c)(3) nonprofit organization whose mission is to help the children of America's fallen military and first responders develop into strong and successful adults by granting funds and/or supplies for positive mentoring and developmental activities such as sports, art, or music during their most crucial developmental years (from the time of loss until age 18). Rather than applying a blanket program, and regardless of the cause of the parent's death, AOAF is organized around providing opportunities and support that is based on the unique needs and interests of each child.
For more information on AOAFallen or to donate, please visit http://www.aoafallen.org.